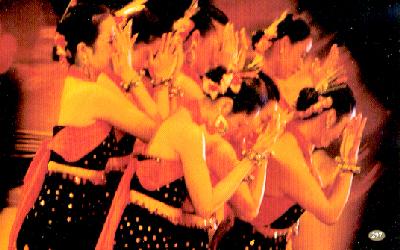 The Song and Dance Ensemble of Hainan Province was founded on the basis of Hainan Song and Dance Ensemble and Guangdong Folk Song and Dance Ensemble.
Since its founding, the Ensemble has created and staged dances 3rd of March, Bowl Dance, Half Skirt, Straw Hat Dance, Delivering Grain, Digging Through the Mountain, Song of Rubber Plantation, Stepping on Waves, Picking up Conch, A Five Inch Knife, Love Festival, Legend of Luhuitou, Wanquan River, Mountain Tears, Huang Daopuo, Longevity, Breeze of March, Bell Dance, Dance of Coconut Shell, In the Village and Happy Drum Dance; music pieces Song of Flowing River, Representative of the Li Goes to Beijing and Rendezvous in Shanlan Garden; singing and dancing pieces Spring in the Coconut Village, Hainan Folk Song and Moon Over the Mountain; songs Love Sea, Hainan People, Hainan People and the World, Wuzhi Mountain, Welcom to Hainan, Blue Sky, Story if Hainan, Entering Luhuitou, Betel Palm Love Song and Predestined Love. These program with strong local characteristics won various prizes at provincial and national art festival.
The Ensemble performed at the 34th Haina Art Festival in the RO Korea and at a national ceremony sponsored by the king of Thailand. It has also toured countries like Laos, Singapore, India, Sri Lanka, France and Japan, as well as Hong Kong and Macao regions, with success.
Major artists of the Ensemble include second grade performers Cao Shijuan, Mo Qingqiao and Chen Zhong.
Address: No. 2, Lantian West Road, Haikou, Hainan Province
Post code:  570206
Tel:  (0898) 66797909  
Fax:  (0898) 66712565