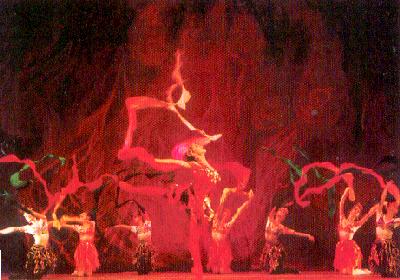 Guangzhou Ballet Troupe
The Guangzhou Ballet Troupe, established in January 1994, is headed by famous dancer Zhang Dandan. Over the past five years, the ballet troupe has staged a lot of ballet classics including full scenes of Coppelia, Swan Lake; selected scenes from Amelia Goes to the Ball, Ramuntcho, Bartok, and Chinese-style ballet Lan Huahua, Goddess of the Luo River, symphonic ballet Rachmaninov, Piano Concerto No 2, in C Minor, Youth Concerto, violin concerto ballet Butterfly Lovers, ballet dramas Anna Karenina, La Traviata and Romeo and Juliet. In 1997, the ballet troupe's new program, the Chinese style Black Phoenix won the Excellent Ballet Program Award, Excellent Screenplay Award, Excellent Directing and Excellent Music Award in the Fifth China Drama Festival. Leading performers Zou Gang, Tong Shusheng and Chao Lemeng won the Excellent Performance Awards.
Most performers of the troupe graduated from the Beijing Dance Acadamy in 1990s. Famous ballet dancer Zou Guang and Tong Shusheng, two first grade dancers, scooped all three top awards in the National Dance Competition in May 1995. Tong Shusheng won the Special Youth Jury Award in the 7th Paris Classic Ballet Contest in 1996. Zhang Dandan won the 14th China Drama Plum Blossom Award in 1997. Guo Fei and Qiu Lu won awards in the Firth National Taoli Cup Dance Contest in 1997.
In June 1993, the troupe's newly choreographed Dancing over the Xiaoxiang River won the only silver prize (the golden prize and silver prize were vacant) in the first National Lotus Cup Dance Contest.
Website:   www.gzballet.org
Address: No. 1070, Tianyuan Road, Tianhe District, Guangzhou, Guangdong Province
Post code: 510520
Tel: (020) 37219925    37219267
Fax: (020) 37219187