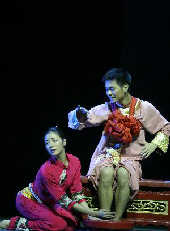 In November 1957, the Song and Dance Ensemble of Jiangxi Province grew out of the Art Troupe of the Ministry of Communications. The Troupe has created and performed a lot of excellent works. The national prize-winners are as follows: Instrumental music works: Song of Cow Herding, Nanci, Instrument Music of the South, Spring of Ganjiang River, Feeling for Mountain Areas, The Red Sunshine on Jinggang Mountain, The Good Spring; Vocal music works: Aza;ea (chorus), the Other Side of Ganshui River (divertimento); songs: Song for Tea Drinking, Red Rice and Pumpkin Soup, Hometown Fellow,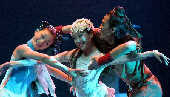 Secretly Getting Close to You, Chinese Mothers, New World; suite songs: My Red Land, Hometown of Azalea; operas: Spirits on Red Land; dance works: Great Pioneering Work, Golden Rooster Crowing for Sunrise, Mother Love, A Little Liaison Member, Kite Flying, Visiting Lushan Mountain, Spring Tour, Circle-Frame-Rubber Band, Descendants of Dragon, Car Lantern, Long Drum for Spring, Nuo Dance in Nanfeng, Ceremony for Peace and Unity, etc. Its full-length song and dance Love for Ganjiang River won performance and conductor prize at the 3rdBeijing Chorus Festival.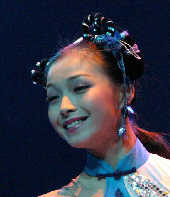 The Ensemble has contributed a lot to the international cultural exchange by visiting and performing in Yugoslavia, Hungry, Romania, the former Soviet Union, six African nations and Japan. Its main artists are: Qin Gengyun, Xie Celi, Liu Anhua, Wang Shuhuai, Chuan Yao, Ma Cunlan, Xu Zongjian, Jiang Shiyan, He Guangyuan, Liu Liqin, Ai Hua, Lu Min, Wan Liangsheng, Peng Weiping, Wu Chengxiang, Xie Li, Shen Ying, Xu Jingguang and Zhou Bo.
Address: No. 67, Zhangjiang Road, Nanchang, Jiangxi Province
Post code: 330008
Tel: (0791) 6701548