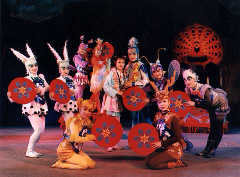 The Chinese Children's Art Theater was established in 1956. Since its inception, the theater has played a representative and exemplary role in guiding the development of children's art. It has staged more than 130 high-quality children's plays for some 380 million youngsters across China with a style that vacillates from the traditional to the modern, native to foreign. Among the plays, 18 obtained national awards and over 60 artists were honored on several occasions.
In its first decade, the theater produced a number of excellent plays, including "Malan Flower," "Little White Rabbit," "Clever Housewife," "A Revolutionary Family," "The Youth Garrison," "Liu Wenxue, the Young Hero," "In the Name of the Revolution," "Yue Yun," "Fly Wing to Wing," "Magic Boat," "The Young Generation," "Spring Melody" and "100 is Not a Full Mark," to name a few. At the First National Modern Drama Gala, "Malan Flower" was awarded the first prize for the performance, second prize for literacy creation, directorship, dance design, and third prize for set design. Zhao Qiansun and Lian Dezhi, who played the Old Cat and Little Monkey respectively, placed third in the acting category. In 1991, Liu Xiaoming won the 8th Theatrical News Plum Blossom Award for the part of Ma Lang in the play.
Since 1978, the theater has continued to stage many prize-winning plays, including the "Newspaper Boy," "Strange 101," "The Secret of Handan Bird," "My Childhood on the Black Soil Land," "Boy Zhi," "A Black Boy on the Great Wall," "The Origin of Human Feeling," "The Emperor's New Clothes," "So Good to Know You" and "Green Bird." The theater has also toured in Singapore and Hong Kong.
Currently, the famous theater artists include Wang Tiecheng, Fang Jufeng, Qin Kun, Lian Dezhi, Li Ruojun, Wang Yang, Liu Xiaoming, Ouyang Yibing, Miao Peiru, Fan Siqian, Dong Jiliang, Zou Ye and Zhou Zhiqiang.
In the new century, the Chinese Children's Art Theater will devote every effort to creating more elaborate works that will enrich the hearts of young people and serve as their spiritual home.
Website:   www.ccat.name
Address: No 64, Donganmen Street, Dongcheng District, Beijing
Postal code: 100006
Tel: (010) 65134115   651341158
Fax: (010) 65134116