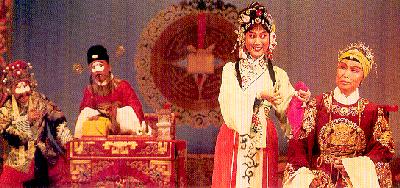 China National Peking Opera Company, originally named National Peking Opera Theater of China, was set up in 1955 under its first president Master ArtistMei Lanfang.
Since its establishment, the theater has been assimilating performing artists, well-known opera actors and actresses, notable writer, conductors, composers and stage artists to bring together a galaxy of Peking opera stars.
Over three generations, beginning with Li Shaochuan, Yuan Shihai, Ye Shenglan, Du Jinfang and Li Hezeng, famous and skilled theater artists have boldly carried on the fine tradition. Second-generation performers Liu Xiurong, Yang Qiuling, SunYue, Liu Changyu, Feng Zhixiao, as well as LiShiji, Yang Chunxia and Qi Xiaoyun came together to form a new strength in art and helped create historical and contemporary figures. Yu Kuizhi, Diao Li, Zhang Jianguo and Zhang Huoding of the third generation, and others, are the new stars of Peking Opera. Since its establishment, the theater has created, adapted and performed more than 100 historical plays, including "Three Assaults on Zhujia Village," "Story of the Write Snake," "The General and the Prime Minister Make Up" and "Mu Guiying Assumes Command." Over the decades, the theater has also adapted and performed contemporary plays, such as "Raise the Red Lantern," "The White-Haired Girl," "Butterfly Adoring Flowers," etc. Furthermore, the theater has adapted and staged more than 200 fine traditional and local operas, such as "At theCrossroads," "A Gathering of Heroes," "Qin Xianglian," etc.
The theater also takes on the important responsibility of promoting international cultural communications. Since the founding of People's Republic of China, the theater has visited over 50 countries and regions, such as the United States, Japan, Germany, France, Italy, the UK, Australia, and the former Soviet Union, as well asHong Kong,MacaoandTaiwanregions, strengthening friendships among people of the world.
Website:  www.cnpoc.cn
Address: No 22,  Ping'anli West Street, Xicheng District, Beijing
Postal code: 100034
Tel: (010) 58519609    58519656
Fax: (010) 58519669