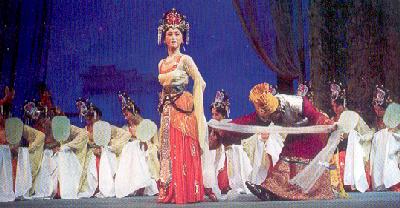 The China Opera and Dance Drama Theater specializes in creating and staging Chinese national and dance operas. The theater was established in January 1950 as the Beijing People's Art Theater and was renamed The Affiliated Opera Company of the Central Drama Institute in 1952, The National Experimental Opera Theater in 1953 and The Chinese Opera Theater in 1964 respectively. The first theater president, the famous writer Li Bozhao, was succeeded by a string of renowned artists: musicians Zhou Weishi, Lu Xiao, Ma Ke; writers Yan Yong, Qiao Yu and composer Liu Wenjin. Its current president is the famous singer Tian Yubin.
The theater has two performing troupes (the opera troupe and dancing drama troupe), two musical ensembles (the national music ensemble and orchestra) and a complete stage design department. Since the founding of the People's Republic of China, the theater has staged some 100 well-known operas, such as "White-haired Girl," "Xiao Erhei's Marriage," "Story of the Pagoda Tree," "Injustice on Dou E," "Die in Grief" and "Champaign," and dance dramas, such as "The Sacred Lotus Lanterns," "Princess Wencheng," "The Dream of the Red Mansion" and "Dancer of the Tongque Platform."
Famous performing artists like Guo Lanying, Zhao Qing and Chen Ailian have been very well received by audiences both from home and abroad. In recent years, a large number of outstanding young and middle-aged performers have also contributed their talents.
The theater helped create and staged the huge operatic dance epics "The East is Red" and "The Song of the Chinese Revolution." It also participated in the Asian Games, International Art Festival, International Chorus Festival and reception performances for foreign state leaders with great success. The theater has also performed in Europe, America, Asia, Africa and Latin America, enhancing international cultural communications and the friendship between China and the world.
Address: No 2, Nanhuadong Street, Xuanwu District, Beijing
Postal code: 100050
Tel: (010) 63528473
Fax: (010) 63528473