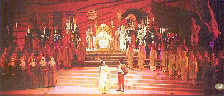 Central Opera House of China was established in 1952 and is one of the best opera troupes in the Asia-Pacific area.
The Opera House consists of an opera troupe, a glee club, symphonic orchestra and stage art workshop. The opera troupe boasts a strong cast of performing artists, most of whom have won prizes both in both international and domestic vocal competitions. The troupe members are top graduates from music academies all over the country and their performances involve both foreign and Chinese operas and vocal works. The symphonic orchestra is known for its outstanding operatic performances and accumulation of abundant musical works. The stage art workshop has not only successfully completed the performing tasks for the troupe, but has also attended stage art workshops of other grand performances. The opera house also boasts a team of prominent composers, conductors, directors, playwrights and stage artists. Its successive directors were Li Bozhao, Zhou Weizhi, Lu Su, Zhao Feng, Ma Ke, Li Ling, Liu Lianchi and Wang Shiguang; currently, renowned conductor Chen Xieyang leads the troupe.
For more than 50 years, the opera house has successfully staged many world classics, such as the operas "Camellia," "Madame Butterfly," "Carmen," " Figaro's Wedding," "Comedian," "Courtier," "Turandot" and "The Vendor and Young Lady." Many new Chinese pieces, such as "Liu Hulan," "the Song of Grassland," "The Cloud with Her Longing for Her Husband," "A Yi Guli," "The 100th Bride" and "Macro Polo" have also been featured by the opera house.
The opera house has visited Finland, the former Soviet Union, Japan, Singapore and Hong Kong, Macao and Taiwan regions, presenting the great Chinese operatic talents on the world stage. Since 1992, the glee club and symphonic orchestra have been participating in the Macao International Music Festival, which was highly acclaimed by both organizers and audiences. International art communications have been greatly extended since the reform and opening-up in China. In 1986, the opera house cooperated with the famous tenor Luciano Panotti to stage the opera "Bohemian." In 1999, the opera house teamed up with another famous tenor, Jose Carreras. In June 2001, together with the Three Tenors, the opera house gave a performance at the Forbidden City for the 2008 Olympic bid.
In the new century, the opera house will become more international and open as it takes up the responsibility of carrying forward Chinese national culture and international partnerships.
Website:  www.chinaopera.com.cn
Address: No 115, Chaowai Dongzhong Street, Dongcheng District, Beijing
Postal code: 100020
Tel: (010) 65535582   65514787   65514788
Fax: (010) 65535572