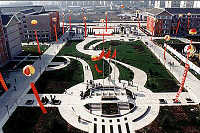 Zhejiang Art Academy, a result of the merger of Zhejiang Art School and Zhejiang Film School on December 6, 1999, is the only professional and comprehensive art college in East China's Zhejiang Province.
Before the merger, both schools had existed for more than half a century and attained high accomplishments. Zhejiang Art School had a reputation for successfully bringing up artistic talents. The school was also known for its educational style of inviting established and seasoned artists to teach in the school. As a result, more than 1,000 students from the school have won various awards above the provincial level throughout the years. Meanwhile, Zhejiang Film School specialized in training talents in the areas of film management and film screening. The advantages of the two schools are mutually complementary and their union provides a wider development ground for the new academy. With an area of 13,340 square meters, the academy is located in Hangzhou, the capital of Zhejiang Province. With a complete set of equipments, the academy is second to none in term of facilities among all of China's art schools. There are altogether 14 majors, including the key provincial-level majors of "Theatrical Performance" and "Musical Performance." Currently, there are more than 2,000 students and 200 plus teachers and professors.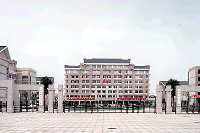 The academy's performance of the Chinese original musical Girl No. 5 won the Eleventh Wenhua Award, which is the highest award for any Chinese artwork, at the Seventh China Arts Festival in September 2004.
The academy has also sent various artistic delegations to a number of foreign countries including Japan, the United States, Britain, and France as well as China'sTaiwan and Hong Kong regions, promoting cultural and artistic communication.
The academy's long-term development objective is to build a comprehensive art university with high education quality, vibrant artistic creation, prominent teaching research achievements and distinctive characteristics and specialties.