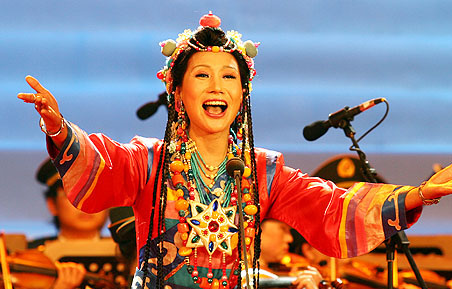 The China Federation of Literature and Art Circles (CFLAC), established in July of 1949, is composed of literati and artists associations, literature and art federations at the provincial, regional and municipal levels and literature and art federations in all walks of life throughout China. Its major tasks are to follow the basic line of the CPC, stick to the principle of "serving the people and serving socialism" and "letting a hundred flowers bloom and a hundred schools of thoughts contend," abide by the constitution and law, devote efforts to bringing prosperity and development to China's socialist literature and art, and organize its members to conduct international exchanges so as to promote friendship and cooperation between domestic and foreign art organizations.
CFLAC strives to maintain the rights of its members, improve the living and working conditions of writers and artists, maintains contact between writers and artists and resolve problems met by artists and writers. It also works to promote unity among the ethnic groups, improve exchanges with T3iwan, Hong Kong and Macao and with ethnic Chinese around the world, and to contribute to the reunification of the motherland.
CFLAC includes artist associations, which are involved in such activities as academic studies and discussion, performances, exhibitions, and competitions. CFLAC has established 13 kinds of specialized artistic prizes covering various artistic fields. The associations under CFLAC also provide training courses for amateurs, conduct activities commemoratingcu1turaI celebrities; encourage and organize writers and artists to make grass root investigations in factories, mines, rural areas, among the army and in border areas while providing necessary aid.
CFLAC and the associations under it, with their own publishing offices, produce some 4O newspapers and magazines. CFLAC currently has 46 member associations.
http://www.cflac.org.cn/
Tel: 86-10-64025528