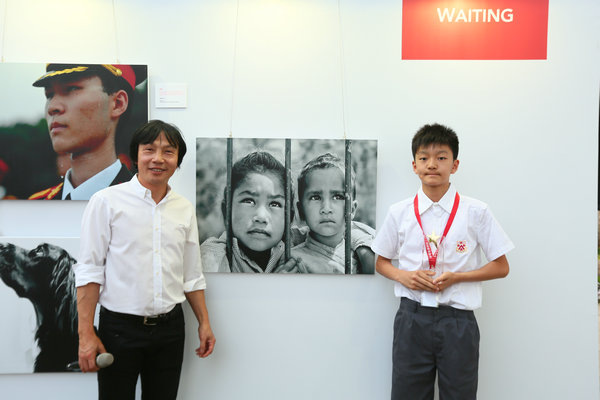 Luo Hong (left) poses for a photo with a winner at the Dulwich Science Art Photo Competition award ceremony at the Luo Hong Art Museum in Beijing, May 13, 2018. [Photo provided to chinadaily.com.cn]
An experienced eye
The submissions leave a strong impression on viewers, including the founder of Holiland, Luo Hong, an experienced photographer and the ambassador for this year's competition.
Luo came to the Dulwich Science Art Photo Competition award ceremony after a month of shooting in Chile, and was amazed by the children's photography.
"From these excellent works, I can see the effort made by Dulwich College International in children's education. There are many differences between the way children and adults take photos. An adult may take a photo from a very serious and professional perspective, yet children will not do such things. But the young people's ability to capture beauty is as strong as the adults," Luo told China Daily website.