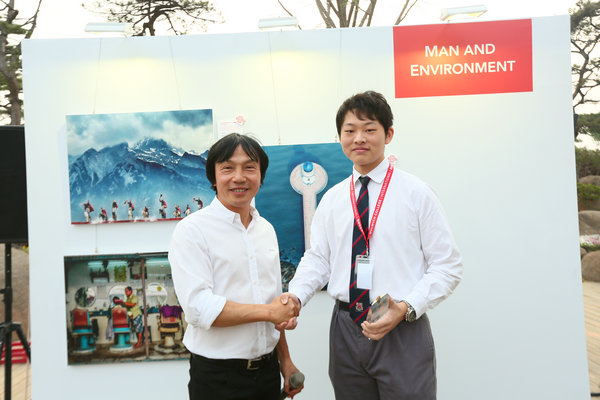 A winner shakes hands with Luo Hong at the award ceremony of the Dulwich Science Art Photo Competition award ceremony at the Luo Hong Art Museum in Beijing, May 13, 2018. [Photo provided to chinadaily.com.cn]
Luo himself fell in love with photography at an early age.
"I was overwhelmed by the camera, which can transform an instant to an eternity," Luo said.
Though Luo studied photography at first, his passion for beautiful things encouraged him to make cakes that were works of art, as he couldn't find one he liked when celebrating his mother's birthday.
Holiland, China's leading bakery, was then founded on this simple and pure wish.
Due to the passion of its founder, the brand has produced many exquisite cakes as beautiful as art.
The business didn't stop Luo from becoming a professional photographer.
He went to Africa to shoot 45 times, encountering many dangers and almost losing his life in a serious helicopter accident.