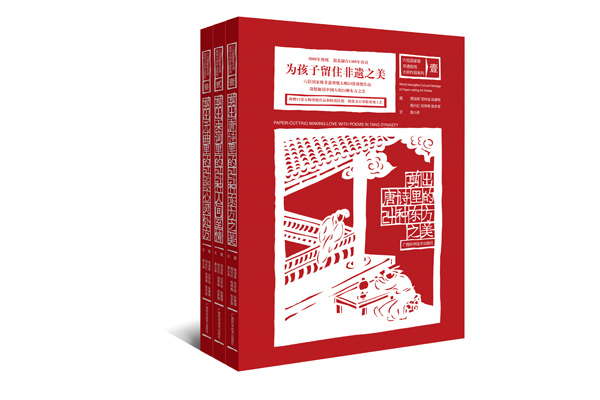 Zhou Shuying's World Intangible Cultural Heritage of Paper-cutting Art Series [Photo provided to China Daily]
In 2006, Chinese paper-cutting was included on the list of the World Intangible Cultural Heritage. As one of its inheritors, Zhou has become well-known with many of her works collected by art galleries and museums around the world.
But she always bears the last words of her father in mind: "Keep this art alive and pass it on to later generations."
That was why as a National People's Congress deputy, Zhou proposed at the two sessions meetings in March that national intangible cultural heritage should be included in elementary school syllabuses as well as for higher education, in order to protect, maintain and develop national art forms such as paper-cutting.
That was also why she agreed to work with other five paper-cutting masters to publish a three-volume book, titled World Intangible Cultural Heritage of Paper-cutting Art Series, which combines the most representative Chinese poetic works from the Tang, Song and Yuan dynasties with the art of paper-cutting.
"I know that many publishers have invited Ms Zhou to publish her works. When I visited her in Yuxian county at the end of 2016, she wore a polite smile at the beginning, but when I described our detailed plan about the book and our aim to let children appreciate this beautiful Chinese art by reading the poems and verses represented through the form of paper-cutting, her eyes lit up," the editor of the book Yuan Jingya says.
"Although paper-cutting is not so familiar to children these days, it will help them better understand the art form and the great poems and verses from Chinese history."
The book is divided into three volumes, each containing works from the three different dynasties: poetry from the Tang Dynasty (618-907), poetry from the Song Dynasty (960-1279) and verses from the Yuan Dynasty (1271-1368). Yuan carefully chose 24 archetypal works for each category and gave a modern explanation on the right side of each work, with paper-cut interpretation of the work in other pages.
She also puts in an introduction about the two masters in both English and Chinese at the end of each volume, so that "English readers will also understand the skills of each school and the contribution of the masters to the art," she says.
At the same time, curious readers can create their own paper-cut works using the patterns and red paper offered in the book set.