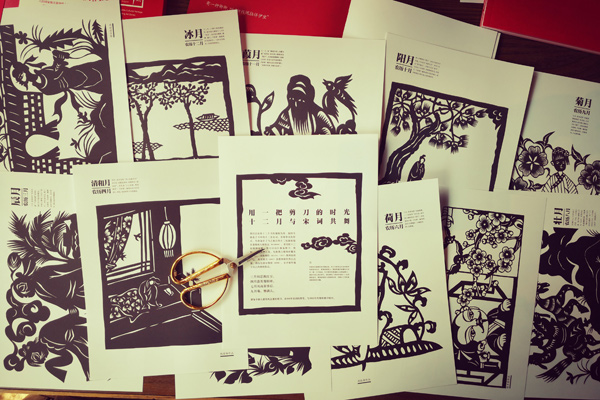 Zhou Shuying's World Intangible Cultural Heritage of Paper-cutting Art Series patterns inside, which readers can cut out from the book. [Photo provided to China Daily]
However, it was still not a smooth process.
Zhou's father Zhou Yongming was the only student taught in person by Wang Laoshang, who founded the paper-cutting school in Yuxian county that originated in the Ming Dynasty (1368-1644).
In northern China, in ancient times before glass became affordable, people used opaque white paper on their windows to keep out the wind and cold while letting light in. But stark white was considered dull and ominous since it is used as a funeral color, so people gradually formed the custom of pasting paper-cuts using red or other colors onto their windows.
At the age of three, Zhou started learning the paper-cutting craft using colors. Unlike many other paper-cutting schools in China, paper-cut works from Yuxian county tend to be multicolored rather than in the single colors of red, black, green or blue. After drawing and cutting out the patterns, craftspeople always added color to them.
There were traditionally only five colors - pink, green, yellow, red, and blue - used in Zhou's hometown. Flowers had to be pink or yellow, but little Zhou always wanted to make them different.
Once she watched a spider accidentally blend two colors into a beautiful pinkish purple while scurrying from one color into another and leaving marks on paper. She then managed to replicate the purple color and used it on one of the flowers she was assigned to work on. Worrying that her father and elder brothers would scold her, she hid the purple flower under other works, but when it was found, she felt relief because they thought it beautiful too.
Despite her talent and diligence, Zhou's father firmly refused to teach her all the skills. She always observed her father closely and imitated his skills. She would put the patterns she learned to draw on his desk, but he always tore them up immediately.
It was not until Zhou turned 20 years old that her father finally agreed to teach her, but solely on the proviso that she did not fall in love before the age of 40.
True to her word, Zhou did not have a romantic relationship until in her 40s, by which time she had long been regarded as a laughing stock in her village and "a bit crazy". But in order to fulfill her promise to her father and realize her dream, she was determined to overcome these difficulties.
In 1995, Zhou's paper-cut work Peace Dove was chosen as the emblem for the 4th United Nations World Conference on Women. In 1996, she graduated from the Central Academy of Fine Arts in Beijing with another representative work Tree of Life, in which she adapted more than 50 propitious Chinese symbols to represent life.
"I drew many patterns before the final Tree of Life, which were all disapproved by my professor Lyu Shengzhong. But in the end, he was pleased with Tree of Life," she says.