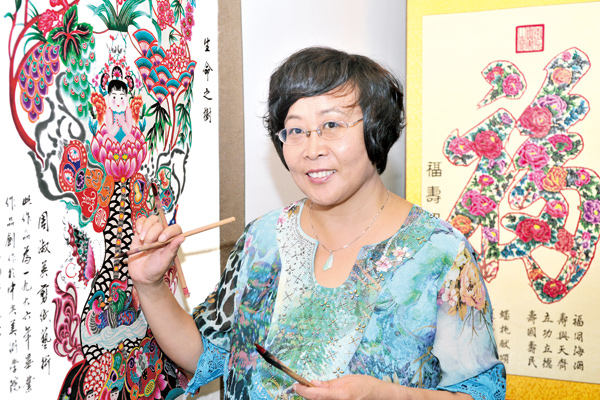 Chinese paper artist Zhou Shuying. [Photo provided to China Daily]
Zhou Shuying spent years injecting new life into an age-old folk craft, which saw her develop new colors, patterns and techniques. Yang Yang reports.
"When my father decided to teach me the art of paper-cutting, he asked me not to have romantic relationships before I was 40 years old."
The comment prompted a general buzz when 54-year-old Zhou Shuying addressed more than 900 middle school students at a recent opening ceremony of an exhibition of intangible cultural heritage at Beijing No 80 Middle School.
"Thirty-four years ago, people paid little attention to such crafts as paper-cutting, and craftspeople were relatively poor. But there were people sacrificing a lot to preserve the arts," Zhou said.
During the speech, Zhou did not explain why her father made such a demand, but she later told China Daily: "My father worried that if I was married, I wouldn't have time to work on paper-cutting." Besides, her three brothers needed to make a living from it, so if she married into another family living off this craft, she would become a competitor to them.
Traditionally, at the school in her hometown in Yu county, North China's Hebei province, paper-cutting could only be inherited by male family members. But Zhou, one of the most well-known masters and the representative of the multicolored paper-cutting school, is an exception.
"It is because my father discovered my talent when I was little," she says.