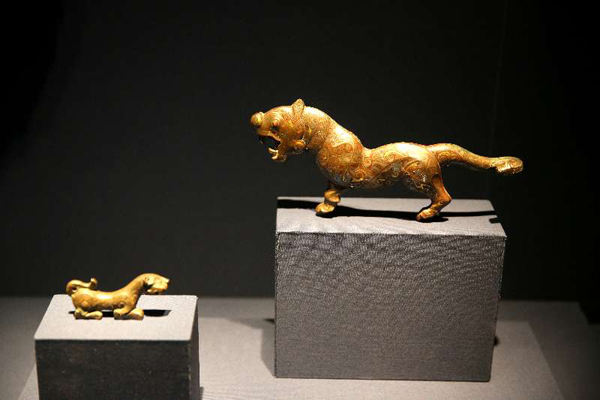 Tiger-shaped garment hooks from China's Warring States Period (475-221 BC). [Photo by Jiang Dong and Yao Ying/China Daily]
Big picture
Treasures from the Al Thani Collection is among the first exhibitions at the Palace Museum that presents relics from such diverse regions and periods.
The Al Thani collection and the Palace Museum first intended to cooperate four years ago.
Wang recalls they initially wanted to hold the Gems and Jewels from India part in China as it was an established exhibition, displayed at the Metropolitan Museum in New York, Victoria and Albert Museum in London, and other institutions around the world.
They finally decided to create a new section giving a broader view of Al Thani's collection.
"It will also provide valuable experience for larger and comprehensive exhibitions in the future," Wang says.
For the Masterpieces part, Wang says he suggested that objects from Africa and South America, which the Chinese public is less familiar with, be added.
The Al Thani collection and the museum are expected to work together in the future.
For Al Thani, such cooperation has taken on a greater significance under the Belt and Road Initiative. During the opening ceremony, Al Thani compared the exhibition to the "fine-art version of the (ancient) Silk Road".
It helps people see the ancient world, "going across Central Asia, Egypt, Greece and the Mediterranean", he says.
The deepening bilateral relationship between China and Qatar is a crucial part of the Belt and Road Initiative, and the global debut of the Masterpieces exhibition in Beijing has "extraordinary meaning", he adds.
Contact the writer at wangkaihao@chinadaily.com.cn