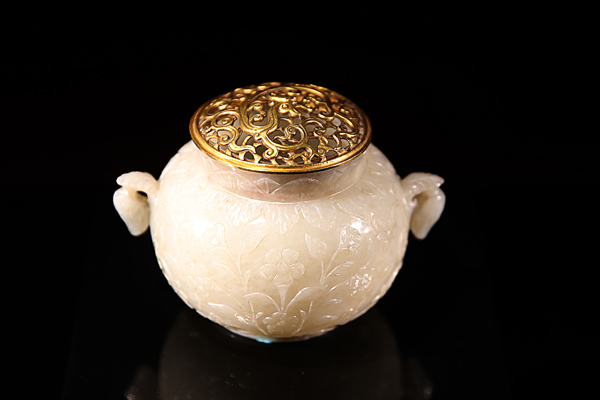 A jade censer made in northern India with a Chinese gold lid (a Palace Museum collection). [Photo by Jiang Dong and Yao Ying/China Daily]
Chinese treasures are also highlighted.
A blue-and-white ceramic plate thought to have been produced in the 1420s in Jingdezhen, China's "porcelain capital" in today's Jiangxi province is exhibited. It has Persian inscriptions and was first owned by a princess. But it was looted in war and later owned by many people. The Mughal ruler Shah Jahan, known for the Taj Mahal, also left inscriptions on the plate.
A tiger-shaped gold garment hook from the Warring States Period (475-221 BC), a gilt-bronze bear sculpture from the Western Han Dynasty (206 BC-25 AD) and a jade cup inlaid with bronze and gold from the same period are part of the exhibition.