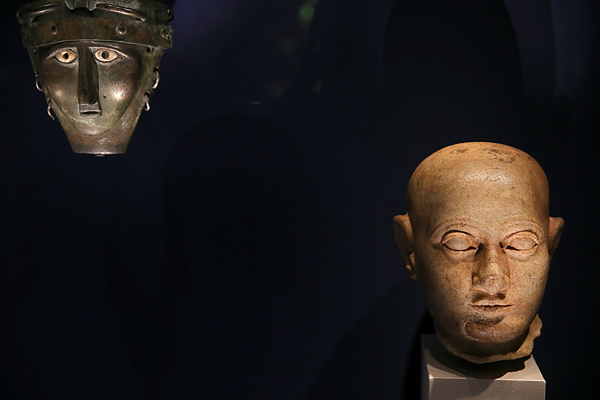 A 21st-century BC head sculpture of a man from Mesopotamia. [Photo by Jiang Dong and Yao Ying/China Daily]
Ancient times
Masterpieces from a Royal Collection, the first of the two-part show, takes visitors on a 5,000-year journey.
Beijing marks the debut of this section for Al Thani's collection outside Qatar.
Several exhibits unveil glimpses of early civilizations.
They range from a 21st-century BC quartzite head sculpture of a man from Mesopotamia, a red-jasper statue of an ancient Egyptian royal figure created between the 15th and 13th centuries BC, to a stela with a high relief portraying a female priest produced between the first century BC and the first century AD in the south of the Arabian Peninsula.
A bronze mask of Silenus from Ancient Rome, a Mayan jade mosaic mask and a terracotta sculpture of a man's head thought to be at least 1,500 years old from today's Nigeria are on show.
Amin Jaffer, the exhibition's main curator, says the collector likes human engagement via precious objects, which explains the many faces and images among the exhibits.
The exhibition showcases the "finest human artistic creation and expression over a period of time", Jaffer adds.
Religious artifacts include a standing statue of the Buddha from sixth-century India, a curtain made in Egypt during the Ottoman rule for Kaaba, which is Islam's holiest site in Mecca, and an enamel church-altar piece from Barcelona.
The criteria of selecting items for this exhibition was strong visual impact and rich history.
"Many pieces in the exhibition have already been in many important collections (before Al Thani's), and we've known so much about their patronage," Jaffer says.
Some displayed objects originated from the Faberge, a studio serving imperial Russia's rulers, while some others were once owned by the legendary Rothschild family, who are originally from Germany.