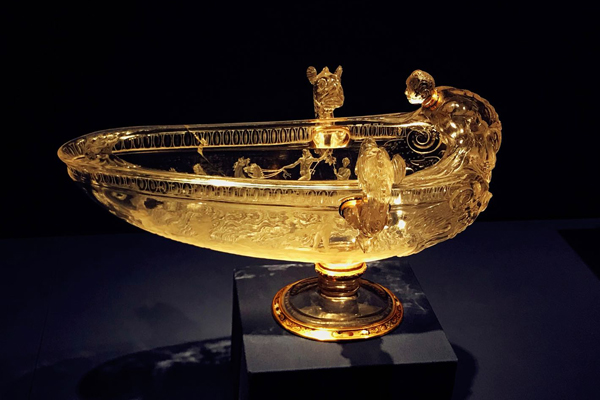 A late 16th-century crystal cup from Milan. [Photo by Jiang Dong and Yao Ying/China Daily]
Indian dazzle
Gems and Jewels from India, the other part of Treasures from the Al Thani Collection, presents a rare journey into the dazzling world of Indian jewelry, which dates from the time of the Mughal Empire (from the 16th- to the mid-19th centuries) to the present day.
Perhaps, no one can remain calm in front of the Nizam of Hyderabad Necklace, which is made of eight diamonds, each weighing between 10 and 15 carats.
Various turban ornaments, bracelets, brooches, rings, armbands and other accessories tell of the luxurious years. European styles gradually mix into designs in more recent works.
Jade articles compose another highlight of this section.
"There was shared tradition between Mughal and Chinese (royal) courts," Jaffer says of the importance of jade in both cultures.
He points to a displayed alcohol cup owned by Mughal ruler Jahangir that was inspired by Chinese ceramic cups.
For Mughal rulers, jade went beyond decoration to weapons, as is shown by a Shah Jahan's dagger.
The Palace Museum picked some items from its own collection for the exhibition. For example, a cup made in northern India, which is carved with a poem written by Emperor Qianlong (1711-99), is similar to some items owned by Shah Jahan.
"The inclusion of pieces from the Palace Museum conveys an important message," says Wang Yuegong, the exhibition's Chinese curator, adding that it shows the legacy of the Chinese civilization.