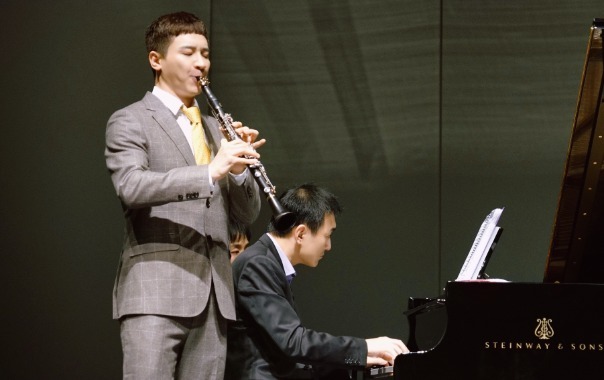 For the vocal version, he invited Ning to sing. The 48-year-old award-winning actress made headlines after she appeared in Hunan TV's reality show, Sisters Riding the Winds and Breaking the Waves. "She is very confident and versatile. She is not defined by age," says Wang.
Wang, who was born in Chengdu, Sichuan province, studied the cello and erhu (a two-stringed bowed instrument) in childhood before picking up the clarinet when he was 9. At the age of 11, he was admitted to the middle school affiliated with the Sichuan Conservatory of Music.
Wang was the first musician in China to receive a master's degree in the clarinet from the Central Conservatory of Music in Beijing, and has been teaching there since 2002.
With more than 10 albums under his belt, Wang also won the Best Instrumental Album award at the Golden Melody Awards in Taiwan. He released his first crossover album, Night & Day, in 2014 after signing a contract with Universal Music China. The album, which merges the clarinet with pop, rock and jazz, received warm feedback.
"I've known my wife for more than 20 years and I'm lucky to have her. I cannot achieve musically without her support," says Wang. "She is a very independent woman. Besides her career success, she also takes good care of the whole family. Whenever I return to my home after touring, I feel warm and relaxed."