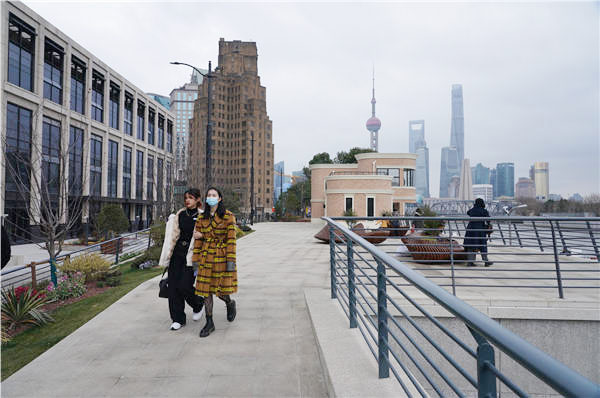 "This place used to be a wasteland full of deserted shared bikes," he says, referring to a park by the bridge of Sichuan North Road where he often brings his children to play today.
"Now, it has become this beautiful green area with very good facilities, such as benches and scenic platforms."
According to Wang Lin, chief designer of the 900-meter waterfront section at Suzhou Creek in Hongkou district, the purpose of the redevelopment project is to "give the riverside back to the people".
For his section of the creek, the width of the sidewalk was expanded to up to 5 meters and the previous parking lot was turned into a 460-square-meter elevated platform for sightseeing.
With the iconic skyline of Shanghai's Lujiazui business district in the background, this area will be among the best spots in the city to take photos, Wang says.
Today, following the changes that have taken place because of the redevelopment project, wandering along the waterfront in Jing'an district is akin to tracing the history of the city's emerging national industry in the early 20th century.
Here, the 6.3-km path links a dozen industrial-heritage structures, including the art-deco building that housed the Shanghai Chamber of Commerce, the Joint Trust Warehouse, which was known as Sihang Warehouse, the site of a critical battle in the War of Resistance Against Japanese Aggression (1931-45), and the Fuxin Flour Mill, which was once the biggest flour mill in China.
Artworks, such as paintings of new and old Shanghai and installation pieces, have also been introduced to breathe new life into the area.
Zhong Lyu, chief designer of the Jing'an section, says that much attention was paid to details, such as the decorations and colors of the parapets, pathways and the surrounding areas, so that the new and the old would blend harmoniously with one another.
In Putuo district, which accounts for half of the redevelopment project, connecting the pathways involved much negotiation and communication with companies, institutions and local residents.
Wang Zhedong, who lives in Peninsula Garden, formerly a closed residential neighborhood beside the creek in Putuo, says he was worried about the opening up of the creek banks in the community due to safety concerns.