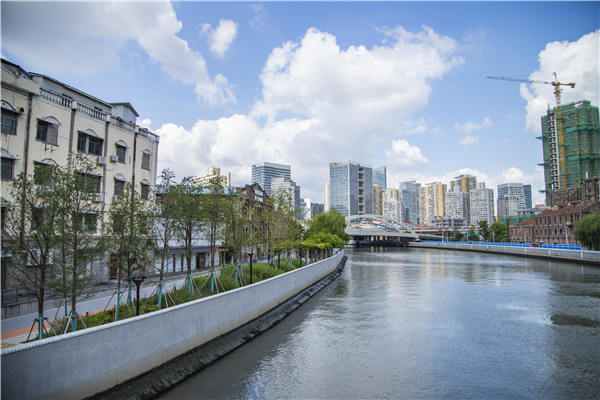 "But the local government showed us the plan and made adjustments according to our feedback, and when the renovation project was done, I found the riverside had become more beautiful," he says.
"At the beginning, we residents thought that we'd lose some privacy with the opening up of the community, but in the end we feel that the project has actually given us more space. We now have a much longer riverside to stroll and relax along," Wang says.
In Putuo, around 14 residential neighborhoods and eight institutions and companies, such as the East China University of Political Science and Law, Shanghai Banknote Printing Co and the M50 Creative Park, have agreed to take down their concrete walls and open their internal spaces to provide the public access to the riverside.
"The project could not have completed without the understanding and cooperation for the opening of the pathway," says Zhang Yuxin, deputy governor of the district.
He Chunming, who has lived near the river most of his life, says he used to be able to swim in the creek when he was a child, but this stopped when the water became severely polluted in the 1980s.
A huge cleanup project was launched in 1996 and billions of yuan were channeled into a project that involved building sewage pipes and wastewater-treatment facilities.
The fourth phase of the comprehensive cleanup project was launched in 2018 with the aim of eliminating water rated below Grade 5, the lowest of the five-tiered national standards, from Suzhou Creek by 2021.
"In the past five years, the water has gradually become clear again and the stench has disappeared," says the 66-year-old. "There are now many small parks along the new pathway, and it has made our mother river pretty again."