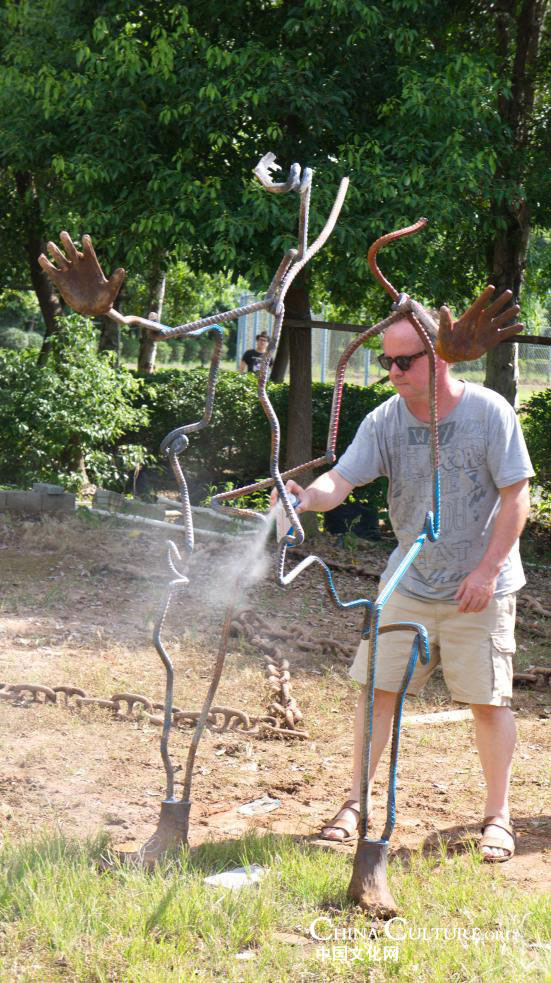 A French artist creates his work in the art park. [Photo/chinaculture.org]
Fifty Chinese and French artists built an art park by using abandoned pieces of iron from the previous Eiffel Bridge, to mark the 50th anniversary of the establishment of the China-France diplomatic ties.
This art park, co-organized by the French Cultural Center and the China International Cultural Association, covers 200,000-square-meters. It is located in Shunde, Guangdong province and positioned as the largest international art exchange platform in Southern China.
French artist Alin Avila acted as the chief curator and was assisted by three Chinese artists, including Lu Mingjun, Fu Xiaodong and Hu Bin. This event also attracted many outstanding artists from modern art sectors in the two countries.
The origin of the art park is related to the Eiffel Bridge, which was built in Bayonne, a city of northern France, in 1862. However, this bridge is not as famous as another masterpiece by Eiffel, the Eiffel Tower. After one and a half centuries, the bridge was ultimately decommissioned.
Fan Zhe, art director of the art park project, prevented part of the bridge from being abandoned and recycled 200 tons of iron. He had these materials shipped home and planned to build a park.
After two years of preparation, the art park will be completed in this year. During the construction, Chinese and French artists constantly came to Guangdong to create art works. In these art works, two of them are noteworthy and offer a good proof for Sino-French cultural origin. Avila noted that France was the first European country to build diplomatic ties with the new China in the late 1960s. But leaders of China and France had never met French President Charles de Gaulle. Avila said he hoped that this activity could help the two great men "meet" in the art space. So the French artist Catherine Val and the Chinese artist Li Ming respectively built a sculpture of Charles de Gaulle and the Chairman Mao and the statues were posed talking to each other.
The art park will open to the public for free beginning Nov 20 and is expected to increase the public's understanding of art.
We recommend:
| | | |
| --- | --- | --- |
| | | |
| Chinese, French presidents write preface for Chinese relics exhibition  | China-France co-production 'The Nightingale' to debut  |  List of 50 major contributors to Sino-French relations announced |