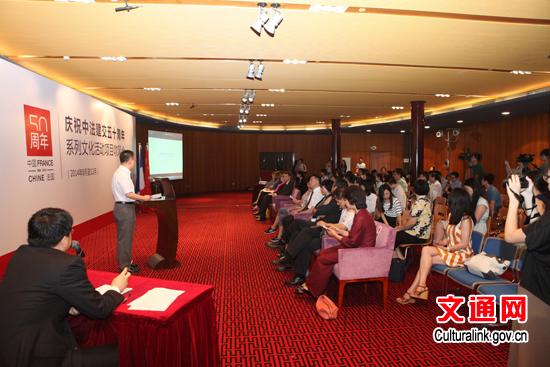 China and France will host more cultural events later this year, said the Ministry of Culture on July 8, 2014.
To mark the 50th anniversary of diplomatic ties between China and France, about 90 events were held for the cultural exchange by the end of June. Later this year, over 80 new cultural events will be held covering music, dance, drama, antiques, contemporary arts, literature and handicraft.
The China National Peking Opera Company will perform White Snake in the French cities of Paris, Marseille, and Angers from October 18 - 29, recreating the glamour 50 years ago at the beginning of diplomatic ties between China and France. The Vice President of the China National Peking Opera Company, Yu Kuizhi said to chinaculture.org, "In recent years, Peking Opera has been enormously influential abroad. White Snake is a masterpiece that requires difficult performance skills. It received ecstatic reviews after we performed it in Australia and the UK. In China, White Snake has been performed for decades, and this time we'll bring the most beautiful Peking Opera to France, and I believe French audiences will like it."
In other cultural exchanges, an ancient relic exhibition from the Han Dynasty will open at the Paris Guimet Museum at October 22. 456 items and 150 groups of precious cultural relics from the Han Dynasty will be on display for five months. The exhibition is especially planned to mark the 50th anniversary of diplomatic ties between the two countries.
In Beijing, an exhibition featuring the works of Auguste Rodin will be held at the National Museum of China in November, highlighting the legendary career of this French sculpture master for Chinese audiences.
Moreover, 50 works from 33 young Chinese artists will go on display at an Asian art museum in Nice, France including paintings, installations, photography and other art forms to present the diversity of contemporary Chinese art.
At the annual China Shanghai International Art Festival, there will be music concerts given by Orchestre de Paris, ballet performances by the Ballet National de Marseille and Théâtre du Capitole de Toulouse, and art exhibitions featuring the work of Xu Beihong along with several French masters.
We recommend: