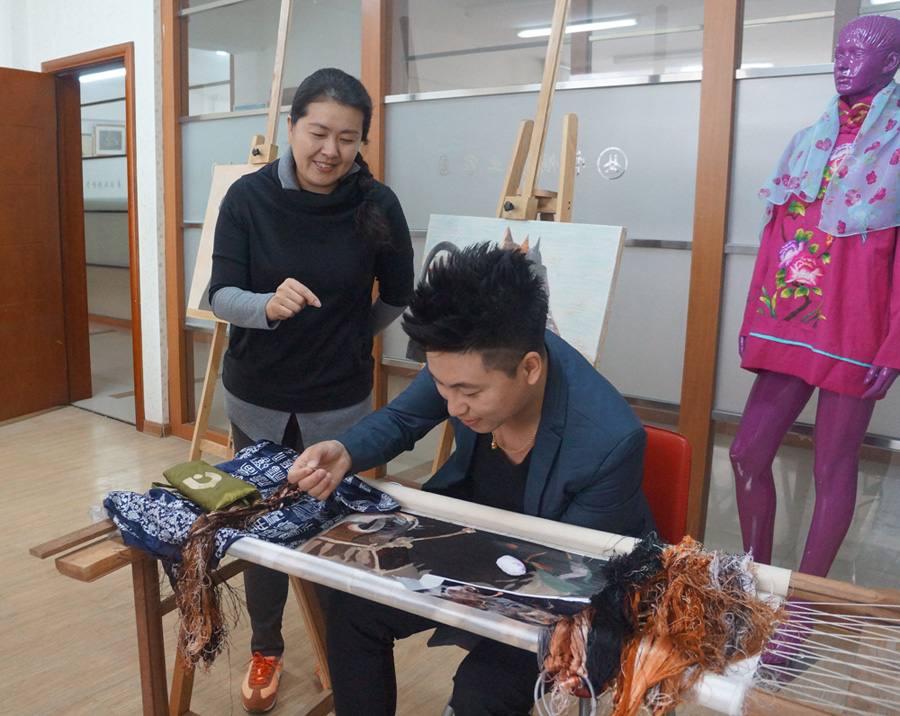 A male college student makes stitches under the guidance of He Xiaoxia, famous Liao embroidery artist. [Photo/takungpao.com]
Originating in the Liao Dynasty, Liao embroidery has a history of more than 2,000 years. It has various stitches and elaborate craftsmanship. To make a piece of Liao embroidery, you need to fix the foundation fabric within a wooden or bamboo frame, copy the pre-designed pattern on the foundation fabric, prepare embroidery threads of different colors and thickness appropriate for the pattern, and make stitches based on the copied pattern. The themes of Liao embroidery vary a lot, from traditional operas and myth stories to calligraphy, painting, and novel figures. These different themes could all be vividly presented through an embroidery needle. Also, Liao embroidery is distinct for its green and red colors, with vigorous and affectionate styles combined together.
Due to its lively colors and exquisite craftsmanship, Liao embroidery enjoys great popularity on handkerchiefs, wallets, pillow covers and tobacco pouches, and Liao embroidery products have large markets both at home and abroad.
Women have been the major force in 2,000-year history of Liao embroidery. However, there have been more and more male college students showing interest in Liao embroidery, which is a great boost to the development of Liao embroidery.
Among all the people who have contributed to the rise of Liao embroidery, the villagers in Zhangjiyingzi village are regarded as the most powerful driving force. They have developed unique Liao embroidery craftsmanship based on a combination of their regional folk embroidery and the embroidery craftsmanship of northern ethnic minorities. The village enjoys a reputation as "Embroidery Village", as every villager has a great passion for embroidery. The local craftsmen use embroidery threads to weave various patterns on cotton fabrics, silk, satin and embroidery cloth, and they are gradually expanding their production scale.
We Recommend: