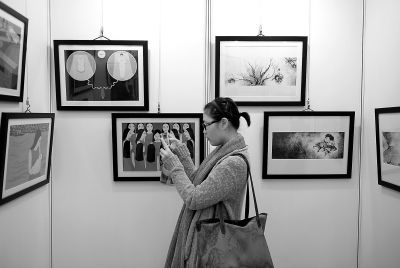 The first Emile Cohl Award ceremony was held at Being Normal University on Oct 23. It also kicked off an exhibition tour of animated works by Chinese and French college students. This event also introduced the story of Emile Cohl, the world's animation pioneer and marked the 50th anniversary of the establishment of China-France diplomatic ties and the 30th anniversary of the establishment of the Ecole Emile Cohl, one of the most famous animation schools in France.
It was the first animation exhibition jointly launched by colleges and universities in France and China and the event will be held annually. France is the largest animation export country but that fact is hardly known to outsiders. This event will increase the popularity of its animations among Chinese and promote the development of the Chinese animation industry.
The famous cartoonist Wu Guanying of the Academy of Art and Design, Tsinghua University, acted as the member of the jury. About 263 animated paintings and 56 animated short films were featured at the exhibition. The jury selected one first prize, two second prizes and five third prizes from among 20 paintings and 18 animated films enrolled in the final round. The enrolled works were exhibited at the Beijing Film Academy on Oct 31 and will tour 15 colleges and universities in China.At the same time, another animation exhibition tour will be held in France.
We recommend:
| | | |
| --- | --- | --- |
| | | |
| Mo Yan moved to tears by adapted TV series of his novel  | Event set to unveil top 10 Chinese movies from 2013  | Chinese Wushu has spread to five continents with more potential to be developed  |