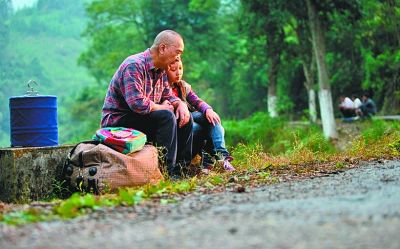 "The Nightingale," a China-France co-production set to compete for the mainland in the Oscars, will hit Chinese screens on Oct. 31, its producers have announced.
Director Philippe Muyl told a press briefing on Monday that in order to shoot the film, he spent a year in China to observe the Chinese people's way of life.
Similar to his 2002 film "The Butterfly," "The Nightingale" tells of an elderly man's unexpected travel with his eight-year-old granddaughter in mountainous southwest China.
Muyl said the focus on family, a big part of Chinese culture, can resonate with people in other countries too.
Producer Paul Delbecq said he was attracted to the film because it shows a real China that is fast developing.
"There are problems and reconciliations between different generations in China because they understand society in different ways," Delbecq said, adding that the characters in the movie find a way to harmony through dialogue.
"The Nightingale" will represent the mainland to compete in the 87th Academy Awards, popularly known as the Oscars, under the Best Foreign Language Film category early next year.
It stars Li Baotian, a lead actor in Zhang Yimou's Oscar-nominated "Ju Dou" (1990).
Its release comes among celebrations of the 50th anniversary of the establishment of China-France diplomatic relations.
We Recommend:
We Recommend:
| | | |
| --- | --- | --- |
| | | |
| Photos reflect people's life and social changes in China  | Tang Dynasty poems adapted into short films | Photo Beijing 2014 kicked off  |