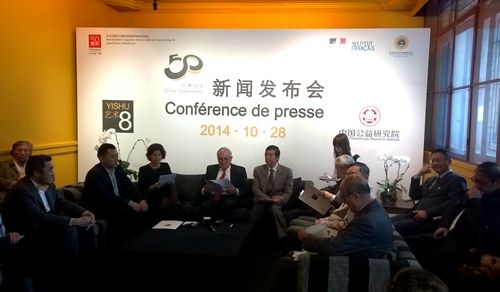 Former French Prime Minister JeanPierre Raffarin and former Chinese ambassador to France Wu Jianmin announce the "list of 50 major contributors to Sino-French relation" at a press conference in Beijing's Art 8 Center on Oct 28, 2014.[Photo/People.com.cn]
A list of 50 people that have made great contributions to Sino-French relations was announced in Beijing's Yishu 8 Center on Oct 28 to commemorate the 50th anniversary of the establishment of Sino-French relations.
Wu Jianmin, former Chinese ambassador to France, and Jean-Pierre Raffarin, former Prime Minister of France, announced the list together.
The list contains the names of 25 French and 25 Chinese "elites who have achieved great accomplishments in their specific fields."
"First, I'd like to make a clarification that diplomats are not included in these 50 people. Otherwise, the number will be larger than the listed," said Raffarin.
"These 50 people are very representative and come from all walks of life," said Wu.
Household names from China, such as nuclear expert Zan Yunlong, actress Gong Li, artist Fan Zeng, entrepreneur Cai Mingpo, and from France, such as architect Paul Andreu, actress Sophie Marceau, fashion designer Pierre Cardin, are on the list.
Winners were selected from more than 100 nominees that were recommended by online voters. The strict selection process involved several rounds of discussion before the final winners were chosen, Christine Cayol, founder of Yishu 8 said at the press conference.
Recommend: