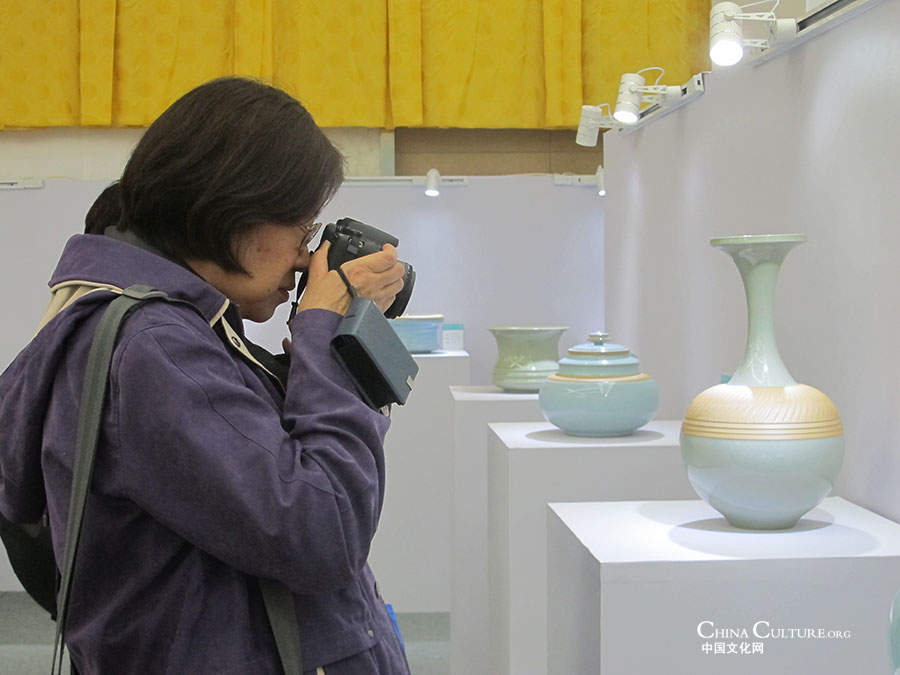 A visitor takes a photo of Ru porcelain pieces at the Tinghuai Ru Porcelain Exhibition in Rongbaozhai Building on Oct. 21 in Beijing. [Photo/chinaculture.org Yang Qi]
The Tinghuai Ru Yao Exhibition is underway at the Rongbaozhai Building in Beijing. More than 100 Ru Yao (Ru kiln) pottery and porcelain pieces by Li Tinghuai, an inheritor of National Intangible Cultural Heritage and pottery designer, are showcased. The exhibition runs through Oct 24.
The exhibition is co-hosted by Department of Intangible Cultural Heritage, Ministry of Culture, Henan Provincial Culture Department and Beijing's Rongbaozhai.
The Song Dynasty (960-1279) was a prosperous period in the development of Chinese ceramics production, while the products of Ru Yao (Ru kiln) werecommonly regarded as of the highest level of ceramic art at that time, as well as the representation of unprecedented height in the aesthetic value of traditional Chinese ceramics. Being known as No.1 of the Top Five famous kilns in the Northern Song Dynasty, Ru ware has the reputation of "leader among them".
The color of glaze on Ru ware is like the blue sky after rain, moist, glossy and plain. The texture of its glaze surface is smooth and exquisite as a beautiful gem. The surface, like the wings of a cicada, shows small cracklings. Beneath the glaze, scattered bubbles can be discerned under the light. The slight rose pink luster occurs at the joining part of the ceramic body and glaze, which is aesthetically pleasing to both the eyes and the mind.
We Recommend:
| | | |
| --- | --- | --- |
| | | |
|  Collection of Chinese paintings featuring red leaves |  Chinese Han relics exhibition unveiled in Paris | Unveil the production process of 'chicken cup' in Jingdezhen  |