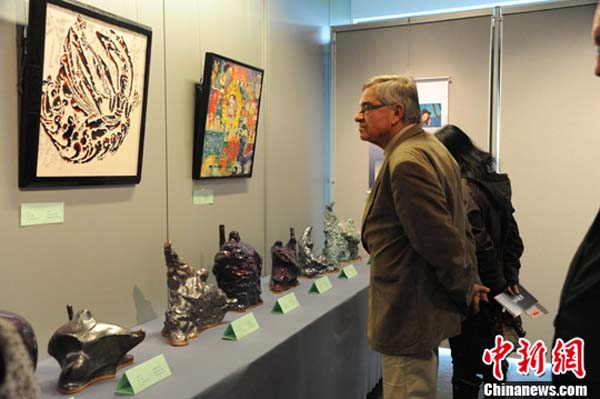 People visit the Chinese Zhongyuan Culture and Art Exhibtion.[Photo/Chinanews.com]
The 2014 Chinese Zhongyuan Culture and Art Exhibition was unveiled in Paris on Wednesday to mark the 50th anniversary of Sino-French diplomatic ties.
The four-day exhibition will showcase various fine artworks like carvings, pottery, and embroidery from the Zhongyuan culture in Central China's Henan province. Zhongyuan, literally "Central Plain", refers to the area on the lower reaches of the Yellow River that is believed to have formed the cradle of Chinese civilization.
The theme of this exhibition is art carvings and pottery. The organizing committee has picked up more than 180 works, including carvings, Ru porcelain, three-color porcelain, and Bian embroidery from Kaifeng. Meanwhile, many contemporary masters of art and successors of the Chinese national level intangible culture heritage also participated in the exhibition.
The exhibition was hosted by Henan provincial government and Zhongyuan Publishing Media Group, with the help of the French Ministry of Culture.
The opening ceremony was attended by cultural counselor of the Chinese Embassy in France Li Shaoping, and CEO of Zhongyuan Publishing Media Group Wang Ai, many French representatives, as well as nearly 100 participants from all circles of life in France and China.
In his address at the opening ceremony, Li said that he was deeply attracted by the exquisite exhibits and touched by the beauty of art.
"The exhibition is a good reflection of the combination of Chinese traditions and modern arts. It also reveals the great efforts that China has made in the preservation of traditional culture and craftsmanship," Li said.
"Henan is located in the middle of China with a long history and glorious culture. It is one of the birthplaces of the Chinese nation and Chinese civilization. We hope the exhibition will leave a good impression on the French," Wang said.
The French representatives showed great gratitude for the organizing committee to bring these remarkable art works to Paris and share with the French people.
They said that Chinese culture and art have made huge progress, along with China's development, and the exhibits, though created by contemporary artists, carry a rich cultural inheritance.
We Recommend: