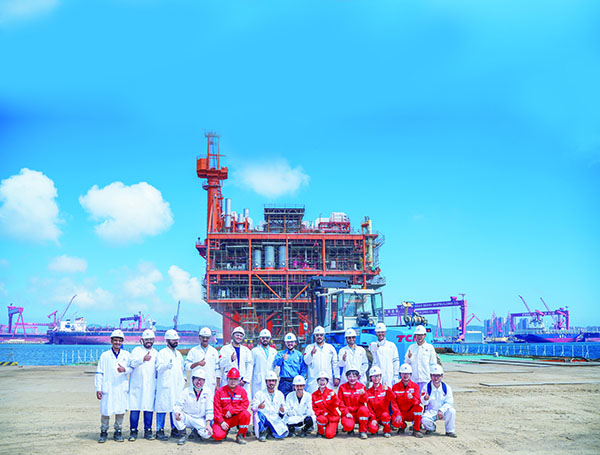 This summer, 12 students from Saudi Arabia were given the chance to deepen their understanding of the oil industry and engage in cultural exchange as part of a special training program in China, Gui Qian and Yang Cheng report.
When Jaghami Nawaf Hussain A, from Saudi Arabia, first stepped into the Tianjin Intelligent Manufacturing Base of the Offshore Oil Engineering Co (COOEC), the 22-year-old was taken aback by how "intelligent" it really was.
"Before I went there, I thought they were not 100 percent automatic and required at least some human input. But they are! They don't need any help from people for welding, inspection, or building things," he said. "There, I learned how to build an offshore oil production platform, how to take oil from the deep sea, and how to transport oil from offshore to onshore. They (the Chinese engineers) taught us step by step."
Nawaf got the chance to gain such insights through participating in the 2023 Summer Training Program for Saudi Students, jointly organized by the COOEC under the China National Offshore Oil Corp (CNOOC) and Saudi Aramco, two leading oil companies in the two countries.
Running from July 28 to Aug 23, the program invited 12 Saudi students in China to travel to Qingdao in Shandong province and then to Tianjin, offering them oil engineering technology training and an immersive cultural experience, such as kung fu lessons, calligraphy workshops and dumpling-making sessions.
According to Guo Ying, one of the program's organizers from COOEC, the activity is the first of its kind. Two large enterprises have built a platform through which young Saudi Arabians can deepen their understanding of China's marine oil and gas industry as well as Chinese culture.
"The program not only provides professional and vocational education for the students — who all study engineering-related majors — but also helps foster stronger friendships and exchanges between the two countries," Guo said.
Xu Qian, an engineer of COOEC and a coach of the Saudi students, agreed. "The exchanges and learning are mutual," he said. "Saudi Arabia is a country with rich oil resources and industrial experiences. Their standardization and integration of production is what we need to learn."