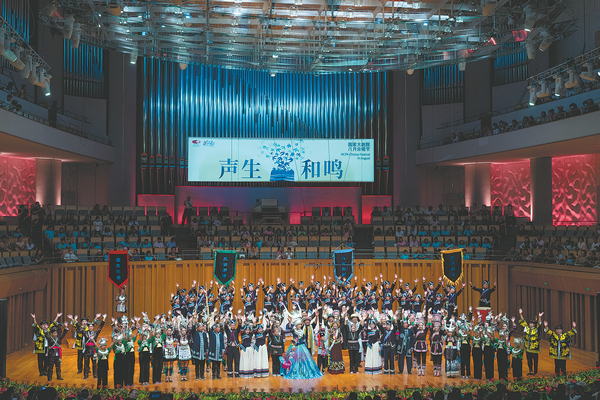 Musicians and singers, representing the Nu, Lisu, Miao, Zhuang and Dong people, among others, kick start the NCPA August Chorus Festival.
Jiang Xiaochun's first musical instrument was a dabiya that his father made for him.
Growing up, Jiang, a musician, who belongs to the Nu ethnic group from the Nujiang Lisu autonomous prefecture, Yunnan province, earnestly learned and played the four-stringed, plucked instrument, which resembles a pipa, but is much smaller in size.
"The dabiya is like a totem for the Nu ethnic group. We take it wherever we go, even hunting and farming. For example, when a man expresses his affection for a woman, he plays the dabiya and sings rather than talking to her," says Jiang, 45.
"Because the Nu ethnic group has no written language, in the past, our ancestors used music to record our history and our daily lives. The dabiya is a musical instrument that belongs to every family of the Nu ethnic group," he adds.