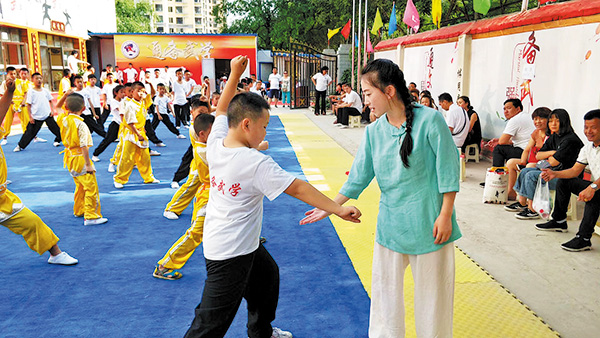 Zhang's father, Zhang Hongmou, used to be a master of Tongbei Martial Arts, a school that originated in the Qing Dynasty (1644-1911). He gained great fame as one of the 100 martial arts masters in China by the Wushu Administrative Center of the General Administration of Sports of China in 1995.
The family tradition has endowed Zhang Hanliang with a lasting love for the culture of Chinese martial arts, and a sense of responsibility to spread it. "When I say I want to spread the culture of Chinese martial arts, I mean I want to spread the skills of martial arts, their cultural background and the lofty moral standards they highlight," says Zhang Hanliang.
According to her, moral standards were very much emphasized by martial arts practitioners in the old days. "Older generations of my family pursued both professional excellence and moral integrity, and it was very difficult to be a master's apprentice, unless they went through long-term tests," she says.
But now, learning martial arts is no longer that demanding, since anyone can pay to learn them. "Martial arts develop with the times. I think it's reasonable, but that can only be done on the basis of keeping its traditional culture and not destroying its system," she adds.
From Zhang Hanliang's perspective, martial arts in today's society still have a valuable function. "People learn them not to become a swordsman, but for self-defense and the health benefits they offer," says Zhang Hanliang.