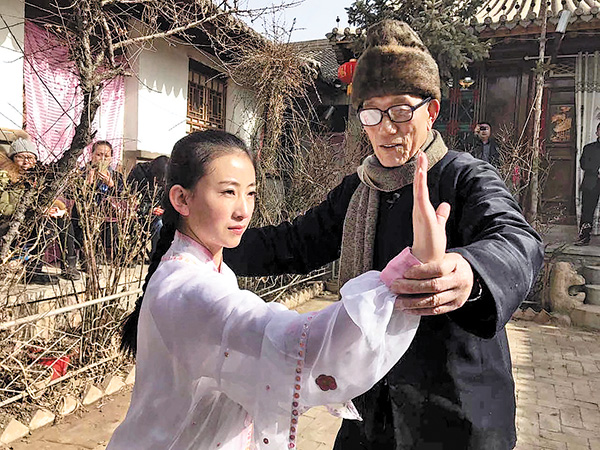 When she was learning a difficult maneuver or how to wield a new weapon, she often got injured. For example, when she learned to do a flip, she often landed on her head, which was not only painful, but also left her dazed. But, undeterred, she would insist on trying again and again until she mastered the skill.
As well as the assigned daily practice, she actively sought further tasks to learn by herself, trying her best to polish her techniques.
"The first lesson I learned from practicing martial arts was to be tough and conquer difficulties. In the face of obstacles, you must defeat the fear in your heart at first. Confidence, courage and careful thinking are very important for improving your martial arts skills," says Zhang.
Her efforts were not in vain. She won her first championship at a swordsmanship competition in Gansu, when she was only 13. Later, she took the first place in a number of other domestic and international martial arts competitions she participated in.
She also learned how to wield many weapons from her family members, just as she shows in her videos. Among them she has a special favor for swords. "A Chinese folk saying mentions that, 'the sword is the weapon for a person of virtue'. I spent much more time improving my swordsmanship than using other weapons. Therefore, I'm especially good at it," says Zhang.
Now, collecting various weapons has become a hobby of hers. "I feel excited when I see a new weapon and want to try it," says Zhang.
Zhang has learned from practicing martial arts that they are not only about techniques, but also the cultural connotations behind them. "When I learned martial arts from my father, he told me the arts are not only about certain movements, but a profound culture, like the pursuit of harmony between people and nature. When you think about the martial arts more deeply, you can find philosophical wisdom contained within," says Zhang.