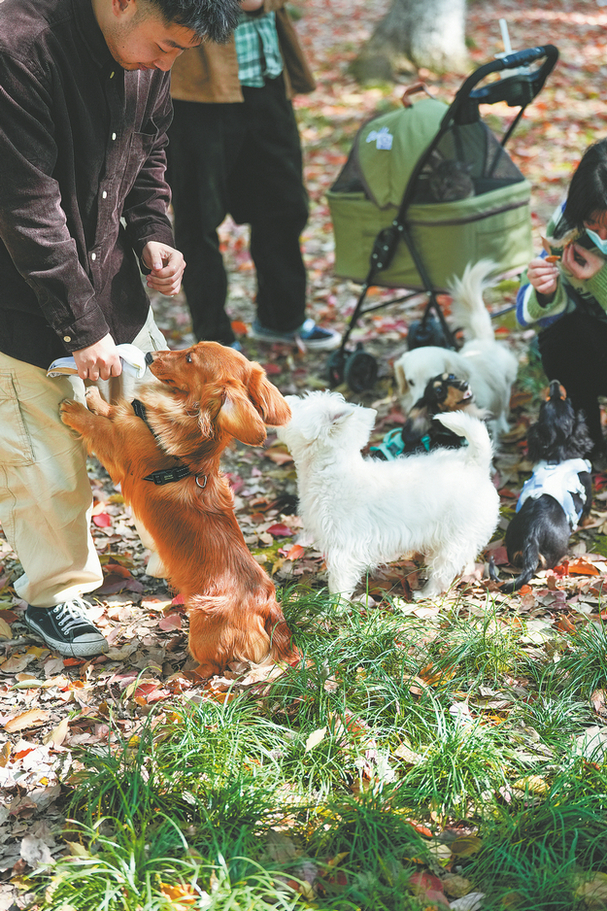 Young urban Chinese are increasingly traveling with their pets for leisure, Xu Lin reports.
Wei Ren, 29, regularly takes his dachshund along for excursions to rural areas in Hangzhou, Zhejiang province. He has also joined a WeChat group of local dachshund owners and frequently attends gathering with them.
"Dogs enjoy the vast fields and clear rivers in the countryside and need to socialize with other dogs as well. It feels very different to walk the dog in such a place with good ecology compared with the big city," says Wei, who works in a commercial real estate consulting company.
He says he notices that the dachshunds have various personalities — while some are extroverts and make more friends, such as his dog, others are introverted.
"As pet owners, we like to talk about our dog-raising experiences. It's interesting to hear people share their different life stories as well, and it has expanded my social circle," he says.
He stays overnight at a campsite and sometimes lives in a rural minsu (Chinese-style bed-and-breakfast establishment), where the room is decorated with pet patterns and equipped with a small doghouse.
According to the 2021 China Pet Industry White Paper, the number of people raising cats and dogs in urban areas across the country reached 68.44 million that year, an increase of 8.7 percent from 2020.
More young Chinese are traveling with their pets, and while there are restrictions on keeping dogs as pets or traveling with them in urban areas, they choose to enjoy themselves in places that are more accommodating to both humans and pets.
Ran Minlu, 28, once took her Shiba Inu to Aranya, a popular coastal resort in Qinhuangdao, Hebei province, about four hours by road from Beijing. The community's pet-friendliness has attracted many pet owners, with many hotels, minsu and restaurants welcoming pets.
"My dog was able to enjoy the sunshine, beach and sea breeze, and we bumped into various breeds of dogs on the seaside. Also, some pet hotels regularly organize dog-related activities for their guests," she says. "When you see your pet playing happily, you will also feel happy during the trip."
She says she believes that taking care of one's pet is like looking after a child, and it needs patience. She emphasizes the importance of ensuring the safety of both owners and pets and suggests not letting dogs off the leash in public places to avoid accidents.
While it's more common to travel with a dog on a road trip, some young Chinese prefer to take their cats along.
Last year, Ti Yujie, 32, moved from Beijing to Chengdu, Sichuan province, with six cats in his car, and started a 35-day adventure. "My prime aim was to move house. But an idea suddenly struck me. Why not travel along the route with my felines?
"I knew there would be many challenges, but I was excited to embrace the uncertainty and have a new travel experience," he says.
He folded down the back seat of his SUV and adjusted the space to make it comfortable for his cats to rest. Besides food and water, he put several litter boxes in the trunk to ensure their comfort during long drives. Together, they explored the desert, the grassland, and even less populated areas, and rested beside a river while watching cattle drink from it.
"It's essential to prevent stress among cats. Domestic cats are timid but curious creatures. Sometimes my cats want to pop their heads when I open the car door, and sometimes hide under the back seat," he says.
Earlier, he noticed that one of his cats was the most suitable to travel with, because it was always eager to explore open spaces, and followed him closely. Some cats, however, might be too afraid to step out in the wild.
As his cats gradually became accustomed to the nomadic lifestyle, they would not roam too far from the car and always knew to return to it when necessary.