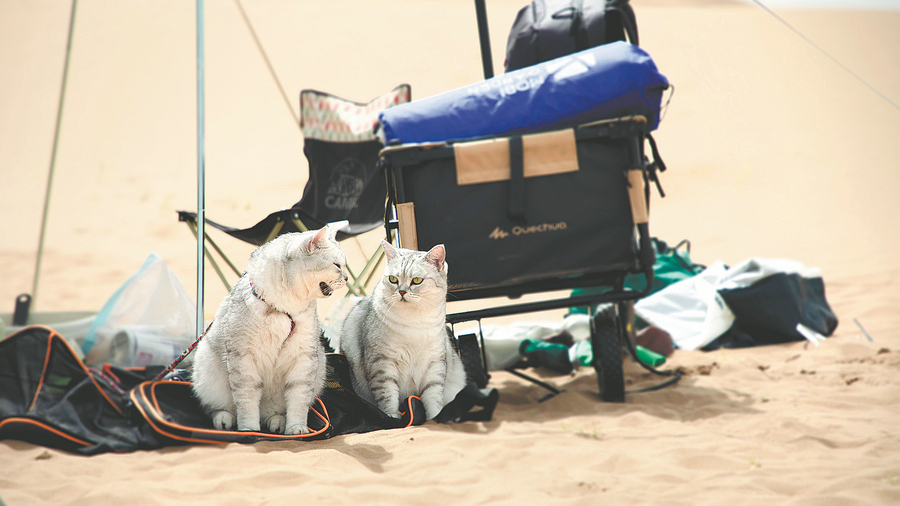 Market potential
More hotels and minsu are recognizing the potential of the pet travel market and are offering pet-friendly accommodations.
Chinese hotel chain Blossom House was among the first in the country to accept pets, when its first hotel was opened in Lijiang, Yunnan province, in 2010.
Among its 53 hotels on the Chinese mainland, over half are pet-friendly and some even have a large outdoor lawn for dogs to play on. Besides pet facilities in rooms, those who travel with their furry friends will get a check-in gift package for pets, such as wet swipes, toys and toilet bags.
"Many guests just need the opportunity to relax with their pets during a short getaway, especially on weekends. It's not that necessary for them to visit a scenic area, where pets might not be allowed," says Chen Pei-hsin, vice-president of Yonglehuazhu Co, which owns Blossom House.
She says those who travel with pets often visit a place they can drive to in less than four hours, and walk their dogs in the natural environment or go hiking.
The hotels of the chain also provide staff members training on how to interact with pets, first-aid for pets and special room-cleaning services.
"The repurchase rate of our guests with dogs is high, because they're satisfied with the hotel's pet-friendliness. Our staff members are fond of pets and treat them well and such details touch our guests," she says.
Owned by Hotel group Marriott International, Element Beijing Yanqing advocates a healthy and green lifestyle, with pet-friendliness.
"Safety always comes first," says Liu Gang, the hotel's general manager.
Guests must show the immunization record of their pets and sign a commitment to use a dog leash in public and dispose dog waste in a proper manner. There will also be a sign on the door that reminds others that the room has a pet. It's advised that those with dogs should keep a safe distance from the elderly and children in the hotel.
"Our guests have high quality and are aware of the do's and don'ts," he says.
According to him, the natural scenery of Yanqing district is suitable to enjoy with pets, especially the marshy grassland. He says people can walk their dogs on the zigzagging footpath along the beautiful Guishui River to embrace nature.
He shares a story from last year, when a young man and a woman — each owning a golden retriever — got to know each other when they stayed in the hotel and fell in love, and then sent wedding candies to the reception desk.
"China's pet travel market is growing rapidly with a huge potential, driven by the increasing number of pet owners," says Song Changyao, head of the tourism management department, Beijing International Studies University.
"Pets have become essential companions for many people, whether it's the younger generations, who feel lonely due to excessive use of social media, or the elderly, who have less companionship because of urbanization."
He says pet-friendly scenic areas, hotels and destinations should take into account animal welfare and behavioral characteristics of pets and provide services such as pet foods and products related to pet health and hygiene.
"Hotels need to handle the relationship between pet guests and other guests, such as safety, hygiene and noise, in order to ensure the quality of accommodation," he says.
He points out that the rapid development of camping and caravan tourism following the COVID-19 pandemic has also boosted the growth of the pet travel market, with pets being important companions for camping and caravan self-driving trips.