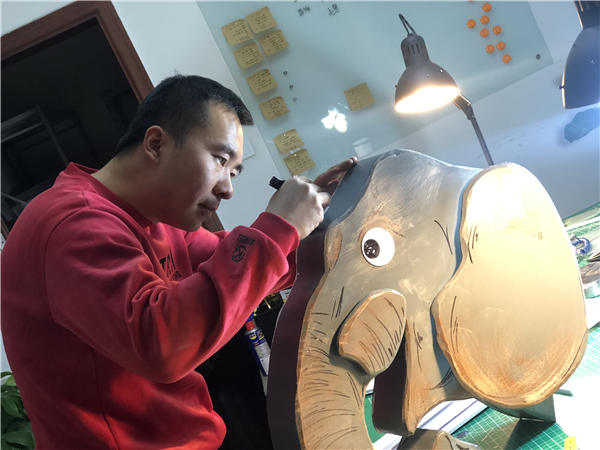 Prop maker reveals the wonder of science to an appreciative audience, Yang Feiyue reports.
Ning Yuan's workshop in Beijing is one of those places that should have a warning sign above the door: Beware all who enter as the hidden child in you may enjoy themselves.
It is an alternate world filled with delicate and polychromatic models, ranging from a crab more than a meter long that is perched on a worktable, to a snowy owl with big, innocent eyes standing on a cabinet top, and the mouth and skin of a human body presented in an exaggeratedly enlarged form.
They were handmade by Ning and his crew and magnified multiple times from the original sizes to better show details for educational purposes.
The man in his 30s showed himself online in a loose garment with a pair of theatrically big glasses. The look has added to his vivid and fun explanation of rigid and obscure science knowledge online, where he has attracted more than 13 million followers, including 9 million fans on the short-video sharing platform Douyin.
"When I decided to do science popularization, I thought people would like it, but I didn't expect it to be so popular," says Ning, who is known as Model Maker Lao Yuan'er in the virtual world.
Since he started the online job in 2020, Ning has posted more than 200 videos and displayed over 1,000 models of various shapes and sizes as props. His topics are close to hot issues.
When the time came for the much sought-after crayfish to hit the market in April, Ning and his crew made a big model and presented lesser-known science about the creature, including how it discharges its waste through the face. It also revealed how one should remove its parotid gland among other things to prepare it through a detailed anatomy walk-through of its internal organs.