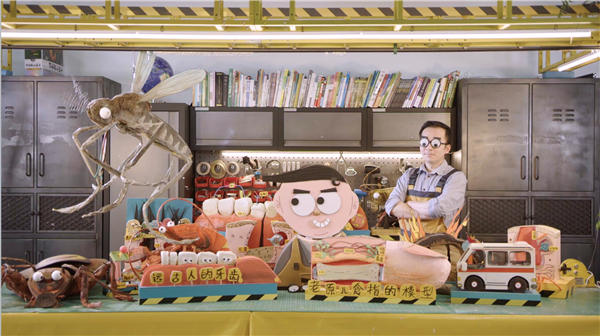 Ning describes the initial phase of his own cause hectic. "My wife and I were both working around the clock," he says.
His wife hadn't quit her job yet, so Ning would make models during the day, and then shot videos with her when she finished work.
"We worked from 8 am until three or four in the next morning for two months straight," he says, adding that one of the reasons he started to wear dramatic glasses was to hide his exhaustion.
It takes Ning usually one to two weeks to finish a video, while years of expertise has enabled him to finish most of the models in two days. The most crucial step in the creative process is the conversion of knowledge into accessible language.
"We have to think and be stringent every step of the way," he says.
Ning and his team members have to consult a large number of scientific journals, such as Science and Nature, to make sure their delivery is accurate.
"We integrate references from those journals and our own observations (of the subjects in question) to create our videos," he explains.
So far, Ning has still kept some of his childhood qualities. He is used to observing things around him, such as various materials of which things are made.
"When he stumbled upon a piece of torn cloth from a roadside billboard, he studied the texture on it," says Geng.
"When the studio was undergoing renovation, he chatted with the construction staff and asked them about the materials they used and the differences between cements."
They are all sources of inspirations for him to make creative content for his audience.
Speaking about his expectation for his own work, Ning says he wants his audience to feel the joy of knowledge from life, which is seemingly familiar but turns out to be a public blind spot.
"My goal is to make videos that are understandable for children and interesting for adults," he says.
His fans are also evolving and have been leaving messages that include interesting scientific questions, which have in turn enriched Ning's production.
At the moment, Ning is planning to stage an exhibition in Beijing this summer. "I'll present a lot of obscure knowledge in a visual way, making it readable, tangible and lively."