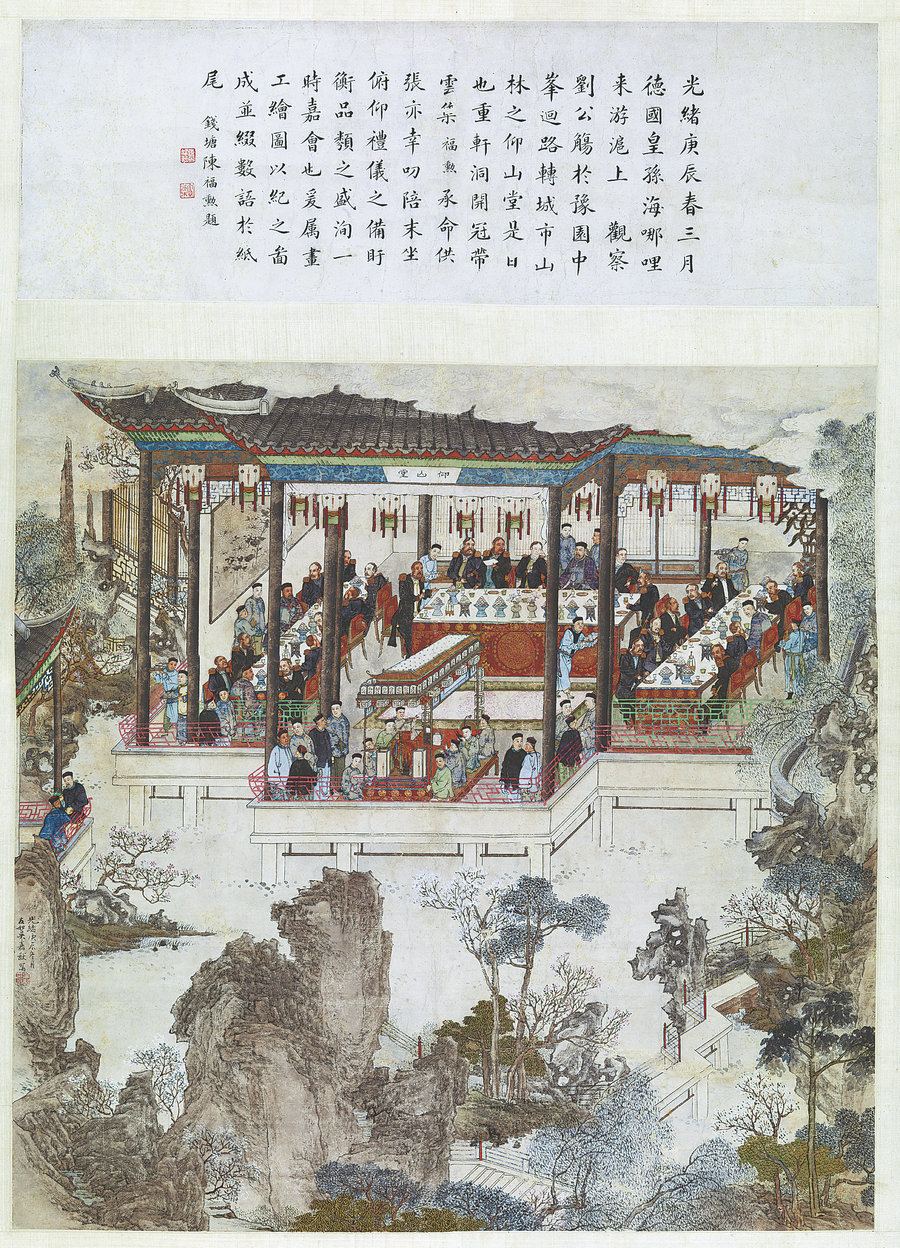 Another painting is by Wu Youru (1850-94) depicting a banquet in the Yu Garden for a visiting German prince, where Western tableware is seen alongside Chinese chopsticks. It is a fine-brush Chinese painting, where the contours were drawn accurately in thin single lines.
"Wu borrowed the techniques of his contemporary Chinese artists, and learned from his Western counterparts the process of light-and-shadow, as well as the Western perspective," Tang says, adding that Wu was a pioneer in Chinese genre painting of social life and news stories.
"In an age before photography, it took arduous concentration to have so many people portrayed in one painting," Tang points out.
With the opening of this exhibition, the Shanghai History Museum opened the outdoor space between its main building, and the West Wing. "The historical buildings are our finest exhibits," Zhou, the museum director says.
The main building of today's Shanghai History Museum was built in 1934, and used to be the former administrative office of the Shanghai Race Club.
It is classical British architecture with a 53-meter-tall clock tower on the top.
The West Wing building was built in 1928, and used to be the logistic facilities for the Race Club. Visitors can go into the courtyard without appointment to appreciate the architecture.
The exhibitions are free of charge, but online appointments must be made and registration requires a valid identification card.
If you go
All the Rivers Run Into the Sea: Joint Exhibition of Painting Masters of Shanghai Style from Jiangsu, Zhejiang, Shanghai and Anhui
March 31-May 28, 9 am-5 pm, Tuesday-Sunday.
Shanghai History Museum East Wing, 325 Nanjing Road West, Huangpu district, Shanghai.