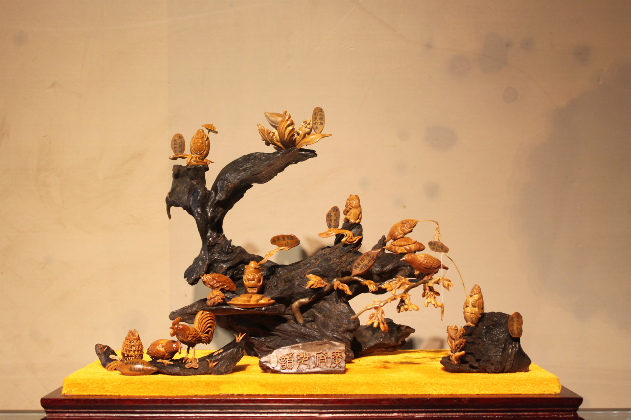 Zeng Xianpeng, a specialist in Guangzhou olive carving, has spent years inheriting and then developing Guangzhou olive carving techniques in Haizhu.
Guangzhou olive carving is one of the three techniques in China, and is listed in the second batch of national intangible cultural heritage protection projects.
He is the deputy artistic director of Guangzhou Zhaoyao Olive Carving Culture Communications and a second-generation inheritor. He learned Guangzhou olive carving techniques from his father, Zeng Zhaohong, a national-level representative inheritor of the skill.
"Because of the influence of my family, I was very interested in history and culture when I was young. I asked my father to teach me the art of olive carving," said he.
In the past, Guangzhou olive carving artisans tended to be traditional in their creations, and most of their work was inspired by fictional motifs from ancient myths and legends. However, his olive carving works are mostly based on historical documents.
He has diversified his technique by improving the quality of his carving knives, shortening the carving time, conducting basic inheritance classes, and offering lectures and experience classes.
He has also launched related Guangzhou olive carving products, including olive meat rice cakes, olive kernel mooncakes, olive soap, and essential oils for aromatherapy.