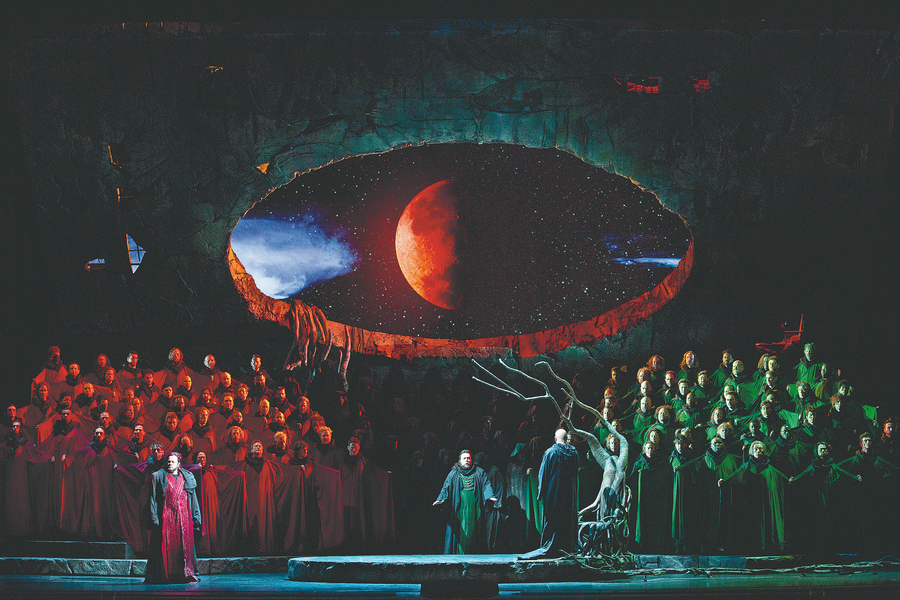 Celebrated art director Tim Yip has designed the costumes and sets of a new production by the Metropolitan Opera, Chen Nan reports.
When the curtain rose on the Metropolitan Opera's new production of Lohengrin on Feb 26, the audience got a taste of the Oscar-winning art director and costume designer Tim Yip's vision of Richard Wagner's romantic opera, which premiered in 1850 and was one of the highlights of the composer's career.
Yip, who is best known for his work in films and dance productions, won an Oscar for art direction for the film Crouching Tiger, Hidden Dragon in 2001 and the British Academy of Film and Television Arts award for best costume design for the same film, becoming the first Chinese person to receive these accolades.
It's the first time that Yip has joined an opera production produced by the Metropolitan Opera, designing the costumes and sets for it.
"This is an exciting chance for me to work with the Metropolitan Opera. I have been working in New York for six months and watched lots of productions by the Metropolitan Opera, observing and learning," Yip said by telephone from New York about a week before the premiere of Lohengrin, which runs with 10 performances through to April 1.
"Many of my friends have worked with the Metropolitan Opera, and this is my opportunity to work with such a large team and bring the director's idea alive onstage," he said.
It's director Francois Girard's third Wagner opera at the Metropolitan Opera, following Parsifal in 2013 and Der Fliegende Hollander (The Flying Dutchman) in 2020.
Wagner's Lohengrin is rooted in folklore and Germanic legend. It is about a mysterious knight rescuing a woman who faces charges of murder in the disappearance of her brother. The woman, Elsa, daughter of the deceased Duke of Brabant, falls in love with the knight. The knight pledges his sword and heart to Elsa on one condition that she never asks him his name. But as the vow breaks, the knight reveals his identity and leaves, and Elsa dies of a broken heart.