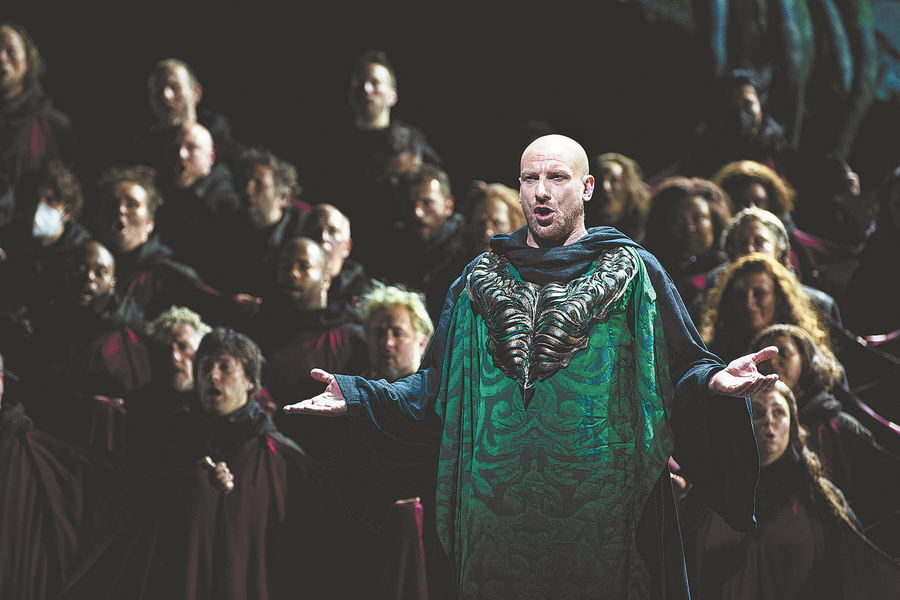 Peter Gelb, general manager of the Metropolitan Opera, said, "I've known and admired Tim Yip's design work for many years, going back to his great success with the film Crouching Tiger, Hidden Dragon, for which I worked on the soundtrack when I was the head of the Sony Classical record label. He has the fantasy and imagination that is a perfect match for Wagner's and stage director Francois Girard's vision.
"His designs are pure genius, both with the evocative sets of a post-apocalyptic world and the extraordinary costumes that change color in full view of the audience."
Opera is not new to Yip. In 2016, he re-imagined the visual world of Dream of the Red Chamber by Qing Dynasty (1644-1911) writer Cao Xueqin when San Francisco Opera premiered its opera based on that classic Chinese novel. The adaptation was brought to life by composer Bright Sheng, the librettist David Henry Hwang and director Stan Lai.
Yip used vibrant colors to design costumes for the characters, including green robes for men and multilayered golden gowns for women in the production to show his understanding of the beauty of Chinese art and style.
After Lohengrin, Yip said he will visit the Minneapolis Institute of Art for the exhibition titled Eternal Offerings: Chinese Ritual Bronzes, running from March 4 to May 21, and which presents about 150 of the museum's ancient Chinese bronze items.
Yip said he will work with Liu Yang, curator of Chinese art at the Minneapolis Institute of Art, to create a novel presentation of the museum's ancient Chinese bronze collection.
With Yip's immersive backdrop design, the sound, projections and light displays at the show are expected to evoke the culture and traditions of the era when the objects were used.
"With this exhibition, I want to create a new multidimensional perspective for looking at bronzes," says Yip, adding that it will allow visitors to rediscover ancient bronze items and the beauty and mystery.
Contact the writer at chennan@chinadaily.com.cn