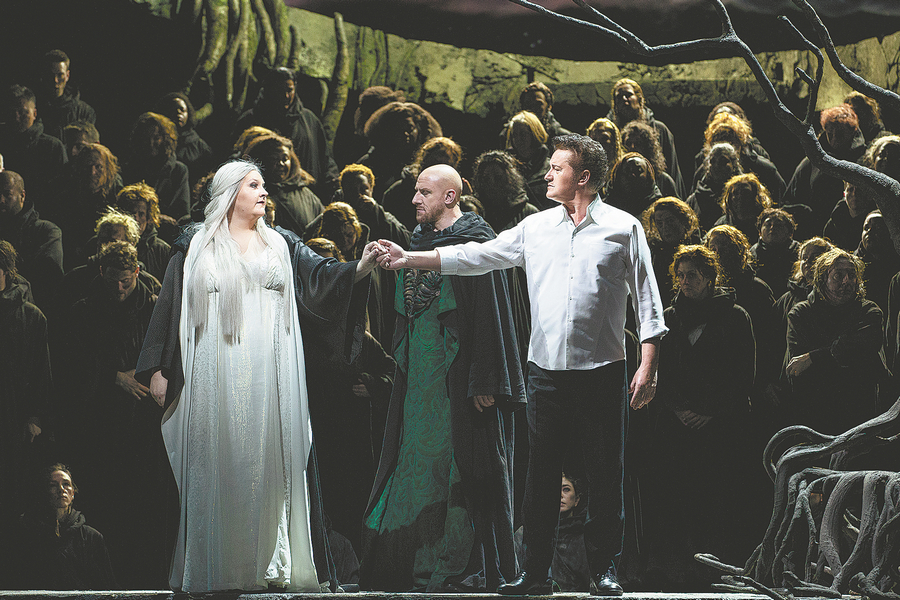 Yip spent months studying the story and music of Wagner's Lohengrin, trying to understand the composer's philosophy of this opera. He has watched different versions of Lohengrin by the Metropolitan Opera since the 1970s. Lohengrin is the Metropolitan Opera's most-watched Wagner opera.
"Every design decision was made to go with Wagner's music, prioritizing the music," Yip said. "Like music, the colors of the costumes, the lights, shadows, choreography and the use of space, all of that onstage is rhythmic and perfectly matched."
Yip used his color palette to build a conversation with Wagner: white for Lohengrin and Elsa, dark green for King Heinrich and a deep red for Telramund and Ortrud. The set is both abstract and a narrative. In the lavish production, a moon appeared repeatedly through a round opening hole above the stage, promoting the atmosphere.
"During the premiere, I usually sit among the audience. I want to enjoy the production like any other viewer. But I would like to pick a seat which allows me to leave easily. There are some critical reviews, which are 'scary'," says Yip, laughing.
Born in Hong Kong, Yip has created sets and costumes for many films by world-renowned directors such as John Woo, Ang Lee and Feng Xiaogang. He also worked with top theaters, such as Sadler's Wells Theatre in London and the San Francisco Opera in the United States. Since 2002, he has held exhibitions, showcasing his artistic works worldwide. He also designed Team China's Olympic podium uniform for the Games held in Tokyo in 2021.
"I flew to Beijing to meet Tim and discovered his world that extends far beyond sets and costumes. I was immediately inspired by his world and the inspiration continues. Tim and I have been sharing projects since then," said director Girard.
"My favorite part (about Tim Yip's work on the Metropolitan Opera's Lohengrin) is that there is no part. Everything merges in everything else. The show is one big thing and Tim is concerned with every aspect of it. Wherever I look, I find Tim's magical touch. He is truly an amazing artist."