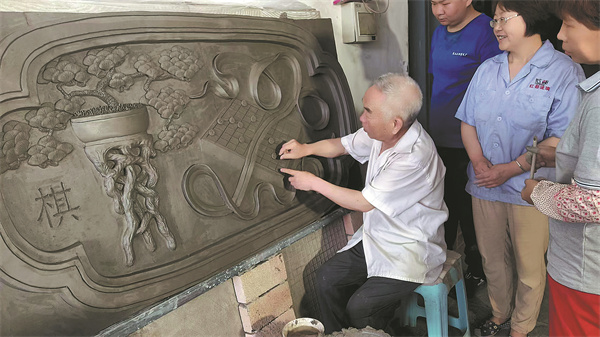 The craft behind the glazed tiles that adorn China's iconic architecture came close to extinction, but through the concerted efforts of a few dedicated people, is now thriving once more, Wang Qian and Sun Ruisheng in Taiyuan report.
One iconic facet of China's historic architecture is its roofs and eaves, which are mainly covered in tiles glazed in green, yellow and blue.
Behind these ceramic tiles and sculptures is a craft passed down over thousands of years, and which is still practiced in Yangcheng county, Shanxi province, today.
According to Glazed Works in Shanxi Province published by the Cultural Relics Press, the glazed tiles and other components made in Shanxi can be found in structures at the Forbidden City, also known as the Palace Museum, and the Ming Tombs in Beijing.
In ancient times, because they were difficult to obtain, ordinary people regarded these glazed tiles as being more precious than jade.
The craft is not only revered in China. Such glazed items are surfacing in the collections of many museums abroad, such as The Metropolitan Museum of Art in New York City, the Louvre Museum in Paris and the British Museum in London.
In 2010 and 2011, the Princeton University Art Museum held Green, Amber, Cream: Forgotten Art of a Ceramic Workshop in Shanxi, China introducing the almost forgotten art. Behind the exhibits were the Qiao family who made glazed ceramic architectural tiles and religious sculptures as far back as the Yuan Dynasty (1271-1368) and were especially prolific during the Ming Dynasty (1368-1644).