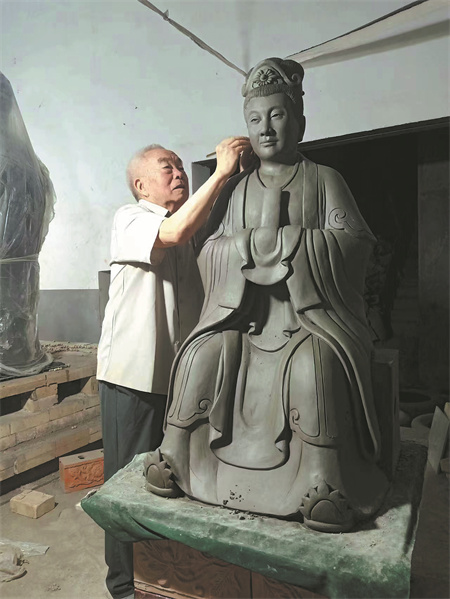 After thousands of tests over two years, Cui Shulin finally succeeded in restoring the craft and perfecting its glaze formula. In 1985, he raised 100,000 yuan to set up a factory to manufacture glazed ceramic tiles and sculptures.
The low-fired earthenware with lead-based glazes from the factory was used to decorate the roofs and walls of the temples, pagodas and modern buildings across the country.
In 2013, Cui Shulin established a studio to study and inherit the Qiao-style craft. He hopes to build it into an intangible cultural heritage teaching center that integrates study, promotional work, exhibitions and cultural exchanges.
In 2019, an art museum focusing on the craft was built in Houzeyao village, and local authorities carried out a protection plan for 11 kiln sites that date back to Song Dynasty (960-1279).
Shi says that, in the future, there will be collaboration projects in architectural protection and renovation with the Palace Museum in Beijing and the Shenyang Palace Museum in Liaoning province.
"We are also exploring innovations in design in order to make the products relevant to modern lifestyles," Shi says, adding that family decoration and collection as artworks will be a new direction for the industry.