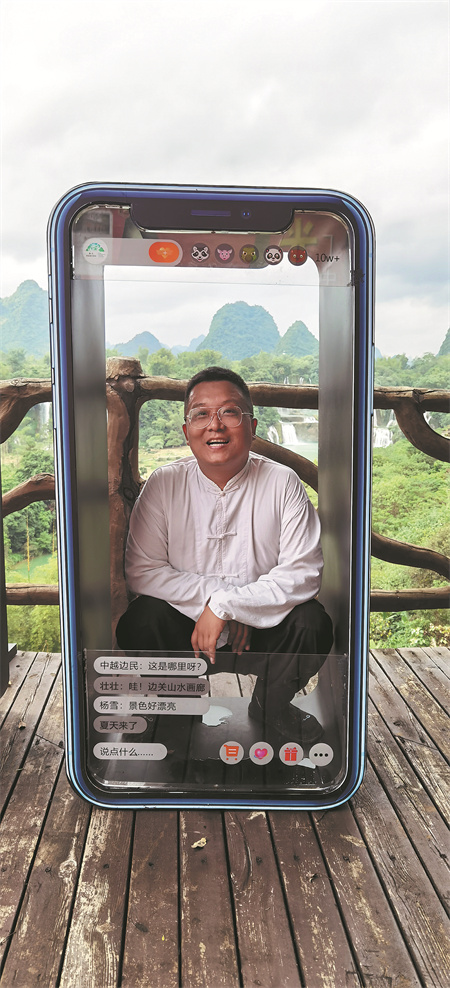 "I figured the foundation of my popularity lies in the public's desire for traditional cultural knowledge," Zhu says, adding that he just stays true to himself in the videos, like he does with his guests on a real tour.
"I dumb down major knowledge points, sort them out before weaving them in the tour explanations, and then I throw in a few punchlines here and there," he says.
Zhu applied for trade license as a tour guide in 2000, when he was discharged from military service and returned to his hometown Wuzhen in Zhejiang province.
"Tourism development was in full swing then," he recalls.
That was when he thought he could tap into his gift of the gab.
"I had practiced stand-up comedy at school and managed to crack people up," he says.
Therefore, he opted for the tour guide certification test and managed to become a professional guide in Wuzhen later that year.
At the beginning of his career as a tour guide, Zhu says he stealthily went over the guidance scripts from all of his colleagues, just to make sure he was fully prepared.
His first group of guests were 40 experienced tour guides from other regions.
"I felt like I had to give them a tour that was different from before," he says.
He managed to do that after reading up on local history and culture books and compiled them into his own explanation.
This initial experience has since had Zhu develop the habit of reading.
"I'll read on my phone whenever I'm free," he says.
In his opinion, a tour guide worth their salt should know a lot more than just the official introduction of a destination.
"You need to listen to your guests, and get to know their preferences before leading them in with anecdotes to their taste," he says.
Sun Yanlan has known Zhu for 15 years from the time when she was also a tour guide. Now, she helps to take care of Zhu's tour business operations.
She says she is impressed by how he could always come up with good answers to all the miscellaneous questions thrown at him by travelers.
"He can explain the complex issues in simple terms, which has been very popular among his clients," says Sun.
She had long noticed Zhu's flair for public performance.
"I noticed him when he was a blogger at a tourism forum and he stunned me by pulling off a tour guide practice training meeting on his own that ended up gathering more than 2,000 people," Sun recalls.
"He loves interacting with people, and learning and getting to the bottom of things," she says.