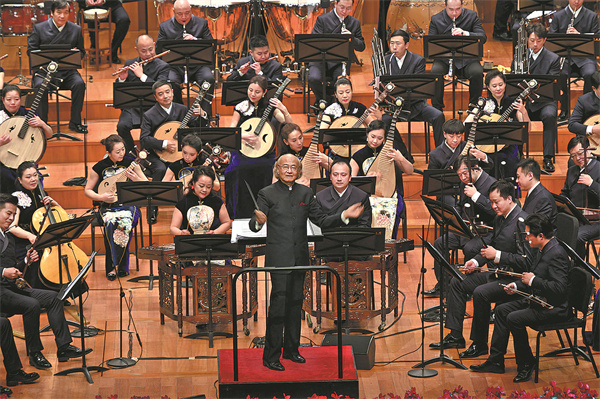 "For a Chinese audience, the Musikverein, also known as the 'Golden Hall', is very famous because of CCTV's live broadcast of the venue's New Year's concert. The venue has a long classical music history and many top musicians from around the world perform there," says Zhao. "I was a pipa student then, and at that time, Chinese music was rarely performed abroad, let alone being staged at such a great venue. When I watched the news, I was very excited and proud, hoping that, one day, I would be a member of the orchestra."
In 2021, Zhao was appointed to the position of president of the China National Traditional Orchestra and that year, the concert, The Year of Roaring Tiger, was planned for the Lantern Festival in 2022.
"According to the Chinese calendar, 1998 was the Year of the Tiger. After two 12-year cycles, 2022 was also the Year of the Tiger. We wanted to present the concert, not only marking the concert in 1998 in Vienna, but also displaying the growth of the orchestra from 1998 to 2022," says Zhao.
The day has long lived in the memory of pipa player Wu Yuxia. "The day that we performed at the Musikverein in Vienna in 1998 was Lunar New Year's Eve. When we entered the venue, we had no time to walk around, since we had a very tight rehearsal schedule. All of us were very excited because we were about to show our music to an audience from around the world," recalls Wu, who played with the orchestra in Vienna in 1998 and also gave a solo display on her musical instrument.
"The venue looked much older than it did on TV, but it was a historic space with traces of history everywhere," Wu adds. "By the end of the concert, the audience gave us a rousing round of applause. We knew that the concert was a great success."
On Lantern Festival in 2022, Wu returned to the stage and performed with the orchestra by working with xiao (a vertical bamboo flute) player Wang Ciheng on an ancient Chinese music piece, Blossoms on a Spring Moonlight Night.