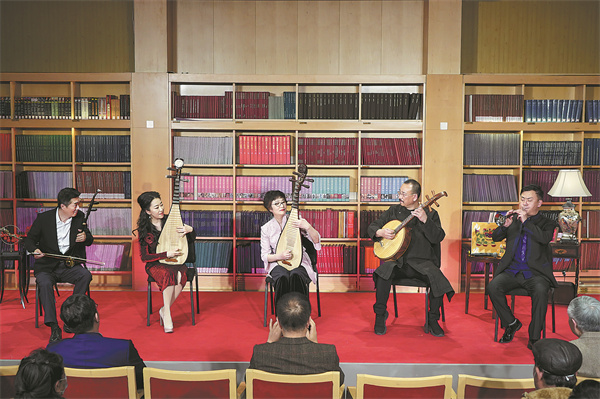 Like Wu, erhu (a two-stringed traditional instrument) player Tang Feng was one of the musicians who performed at the concert in Vienna in 1998. Now, he is the vice-president of the orchestra.
Back in 1998, Tang was in his late 20s and became the youngest principal erhu player of the China National Traditional Orchestra.
"To be honest, I was not confident about the concert at the Musikverein, because Chinese music had never been staged at that venue before. I didn't know if the audience, mostly from the West, would appreciate our music," says Tang. "These types of musical instruments are hundreds or even thousands of years old. In the 1990s, Chinese music and musical instruments were often stereotyped by Chinese audiences, who considered them as old and out-of-date. The success of the concert at Musikverein was very meaningful because it gave us confidence and made us see the greatness of our own music again."
During the concert on Feb 15,2022, at the NCPA, Tang played with the orchestra on an original music piece, titled Pale Clouds and Dancing Wind, which Tang composed along with musician Lin Hai.
"For decades, we have been trying to showcase the beauty of our instruments by bringing out new, original works. The good news is that a greater number of people at home, especially young people, are recognizing and enjoying Chinese music," says Tang.
The new album also features a piece adapted from a folk song of Shaanxi province, which was staged at the concert on Feb 15, 2022, at the NCPA. Titled Xintianyou Capriccio, the work is performed by suona (a traditional woodwind instrument) player Niu Jiandang and zhongruan (a traditional four-stringed plucked instrument) player Feng Mantian. The two musicians not only played their musical instruments, but also sang and jammed onstage, which won lots of applause from the audience.
"The piece was conceived when we had dinner together several years ago. I was born and raised in Shaanxi province and I loved the folk songs of my hometown very much. I started to sing a folk song after drinking some beers and Feng soon improvised on his zhongruan," recalls Niu.
Zhongruan, belonging to the ruan family, is an old Chinese plucked-string instrument. Feng, who joined the China National Traditional Orchestra at the age of 15, is known for his fusion of zhongruan with contemporary music genres, such as rock and jazz.
"I am always interested in exploring the different sounds of my instrument. The rhythm of folk songs from Shaanxi province fits the sound of zhongruan perfectly. When the sounds of suona, zhongruan and human voices come together, the emotion is intense and original," says Feng.
Turning 60 years old next month, Feng adds that he is about to retire from the orchestra, but he will still be open to work with musicians from the orchestra.
"We spent our lives playing our musical instruments. We are keen on preserving their original sounds and bringing new ones to them," Feng says.