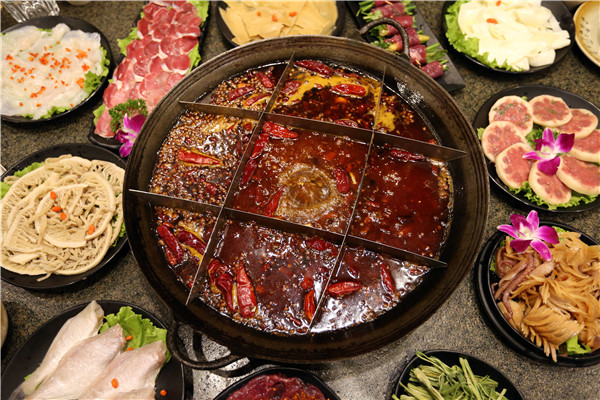 LONDON — Hot and spicy food from China has been warming up Londoners on another overcast winter day, as "Exploring Yummy Chongqing in London", part of the 2023 UK "Happy Chinese New Year" celebrations, officially kicked off on Thursday.
The event is aimed to share the joy of Chinese New Year by introducing authentic Chinese food to the locals.
As people swarmed into Mr. Meng, a Chongqing restaurant near Covent Garden in central London, a big screen showed a live feed of people in Chongqing enjoying the same delicacies. Meanwhile, presenters in both Chongqing and London explained the dishes.
Amira Arasteh, a food journalist working in London, says the mao xue wang (assorted meats in hot sauce) and la zi ji (fragrant chicken with chilies) she tried were "very spicy", but had "lots of flavor".
The famous dishes from the city of Chongqing in Southwest China are known for their ability to fight the adverse physiological effects of humidity. They also have a mood-lifting effect, since spicy food is believed to boost the production of serotonin, the "feel-good hormone".
"We want to use food to attract people's attention to Chongqing. We hope that one day they can travel to Chongqing … and taste the great food in China," says Tang Shi, organizer of the London event.
In the run-up to the food-tasting event at Mr. Meng, local foodies and food bloggers were invited to explore Chongqing food in London and share their experiences on social media, Tang says.
For seasoned foodies, Chinese cuisine is not just about pleasure for the palate; it also signifies sharing and companionship.
Daniel, a Londoner who has been blogging about food for 10 years and has more than 43,000 followers on social media, says Sichuan province was his favorite stop when he visited China a few years ago.
"I love Chinese New Year because you get to share a big table with dumplings, noodles and meats," he says. "It's good to introduce to followers that open-mindedness to try new food, and expand your mind to try different cuisines."
Xinhua