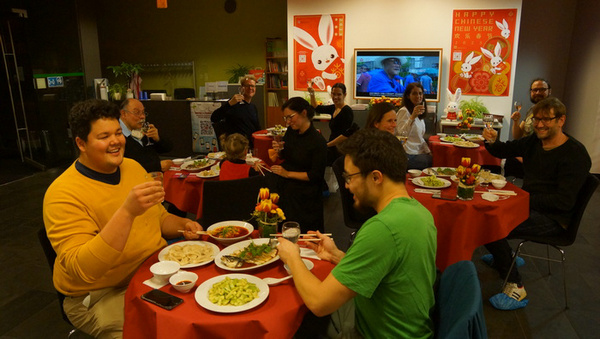 10 German cooking aficionados took part in the cooking class themed around Chinese New Year's Eve on Jan 19 at the China Cultural Center in Berlin.
Under the guidance of Long Wei, the center's chef, participants learned to make iconic Chinese dishes for a New Year's Eve dinner such as Paihuanggua (smashed cucumber salad), Koushuiji (mouth-watering chicken), steamed fish and dumplings. Long also introduced the customs behind the New Year's Eve dinner and the cultural meanings attached to each dish.
Enjoying the dinner, co-created by themselves and their teacher, participants said it was a fun class allowing them to experience the unique charm of Chinese culture through food and learn more about the values behind the Spring Festival.
A brand activity of the center for years, the cooking class is also an important program of the 2023 "Happy Chinese New Year" celebrations in Germany.