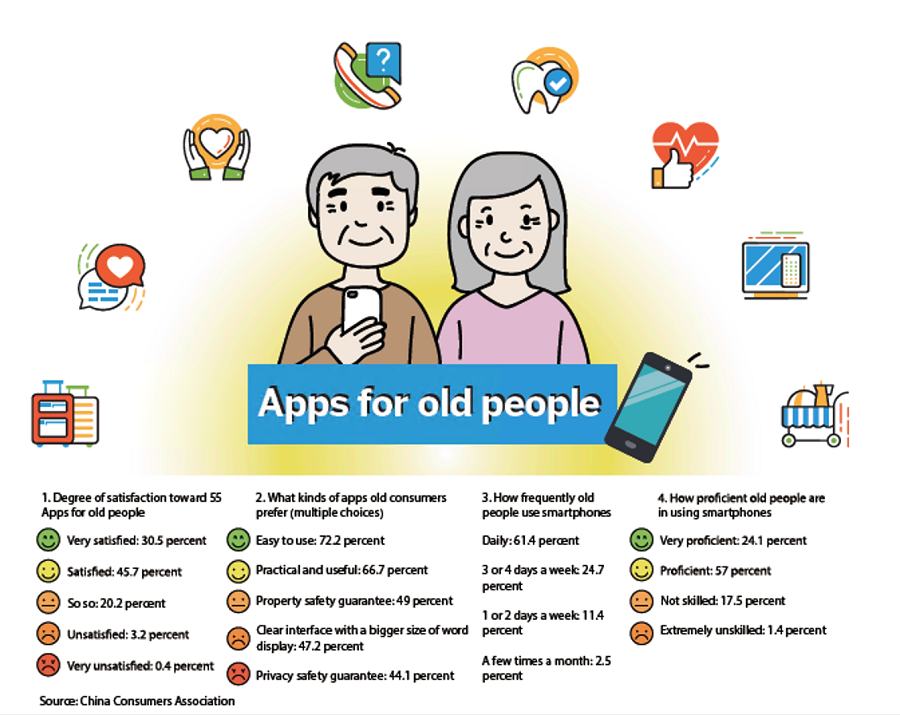 However, they hope developers can improve security and simplicity of use.
Chatting with friends through WeChat videos and sharing travel photos on the app has become a routine for Feng Jun since she went to Beijing from Liaoning province to look after her grandson six years ago.
The 72-year-old, who is open to internet products, has even learned to use WeChat to send red envelopes containing cash gifts to relatives and shop for herself.
However, she was recently a bit confused by the app, as she found that every time she finished buying something on WeChat, she would receive a text message noting her bank card was charged, which had never happened after she put the money in her WeChat wallet.
"In the beginning, I tried to figure out the problem by myself, instead of disturbing my son, as he's busy with work. But I failed after studying the app for a long time, so I had to turn to him," she said.
The problem was actually simple.She had previously asked her son to help transfer 3,000 yuan ($440) to a relative through her mobile phone,but because her WeChat wallet balance was insufficient, her son bound her bank card to the app and later did not unbind it.
"For many users of the app, this might not be a problem. But for me and my generation, that's complicated and a challenge," she said,calling for the app operator to make functions easier to use for the elderly.
Feng is not alone. In 2021, 18.9 percent of the Chinese population was 60 and over, and more than 11.5 percent of the 1.3 billion netizens were in the age group, according to the National Health Commission and the China Internet Network Information Center.
In a questionnaire conducted by the China Consumers Association issued in December, 61.4 percent of 1,926 participants said they used apps every day, mainly covering social, news, photo, navigation,healthcare, entertainment, payment and catering.
More than 70 percent of participants demanded apps be simplified, the association said, adding that larger font size, fewer pop-up advertisements and privacy security were also requested.